Recipes
Ted's Tapenade
Ted Cheeseman, Happywhale founder
For Father's Day this year, we're highlighting Ted's famous olive tapenade. Jasmine, Graza's Marketing Coordinator, and her dad, Ted, have been making this for many years and most would consider it his peak culinary achievement. Make it for, with, or in honor of your dad and you'll be just as ready as we are to devote yourself to olives.
Ingredients
6 cloves garlic
1 big pinch anise seed (optional but recommended)
3 big sprigs fresh rosemary
3 big sprigs of fresh thyme
1 very large bunch of basil
1 can black olives
1 can green olives
1 can kalamata olives
Instructions
Active Time: 20 min.
Full Time: 20 min.
1
Ideally start this tapenade party by getting your hands on the freshest herbs possible.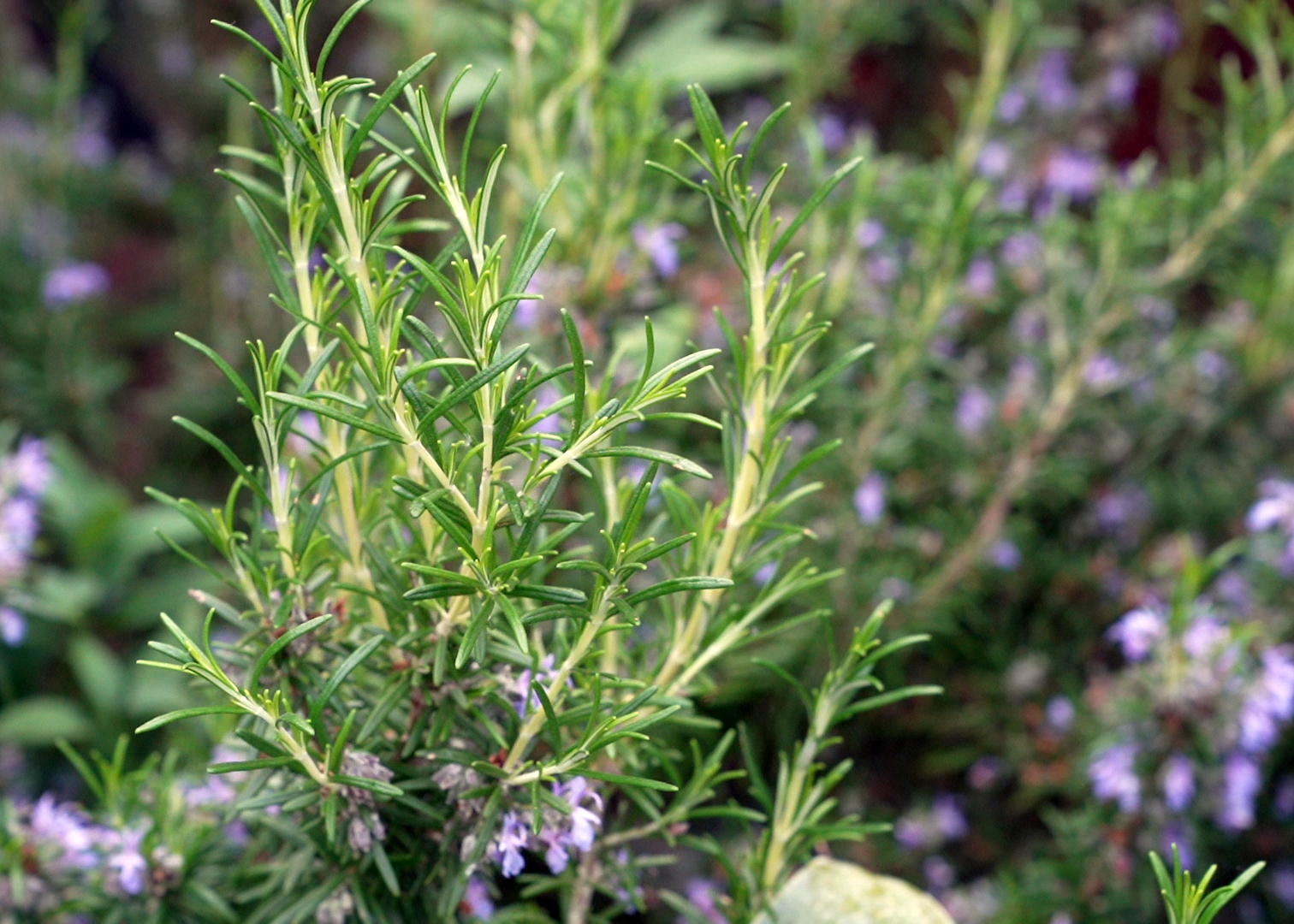 2
Roughly chop 6 cloves of garlic and place in a small to medium frying pan. Add 1 big pinch of anise seed (optional but recommended).
3
Cover garlic in about a quarter inch of Sizzle and turn the burner on very low. Keep an eye on the garlic, it should come to a very low simmer. When the garlic has softened, but not browned, and you can smell it in the air, take the pan off the heat and set aside.
4
While the garlic is cooking, pick the leaves off 3 big sprigs of fresh rosemary, 3 big sprigs of thyme, and 1 very large bunch of basil. Pile all together on a large cutting board.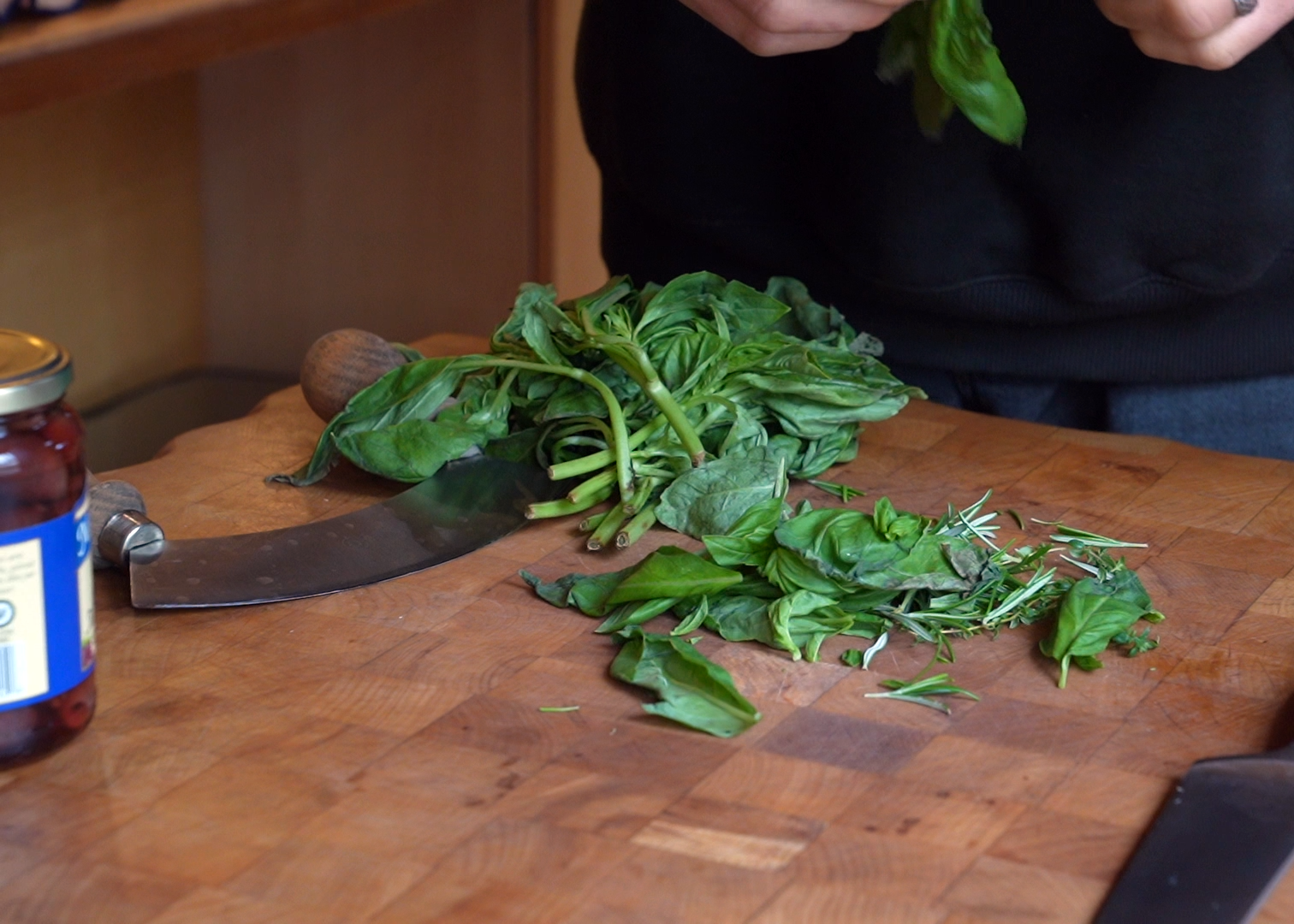 5
Drain the brine out of 1 can of black olives, 1 can of green olives, and 1 can of kalamata olives. Pour all the olives onto the pile of herbs.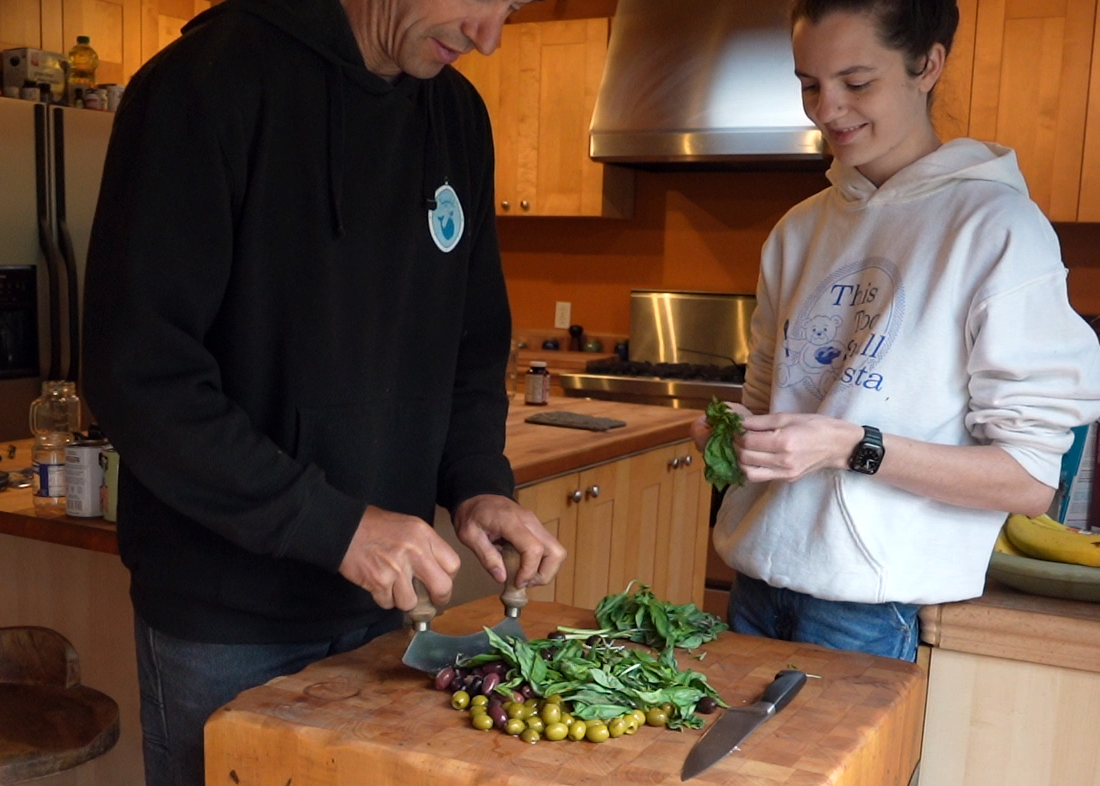 6
Start chopping, using a bench scraper to corral the olives. Try to get all the components somewhat evenly chopped, but the beauty here is in the variation. Generally, the biggest olive piece should be around the size of a very large pea.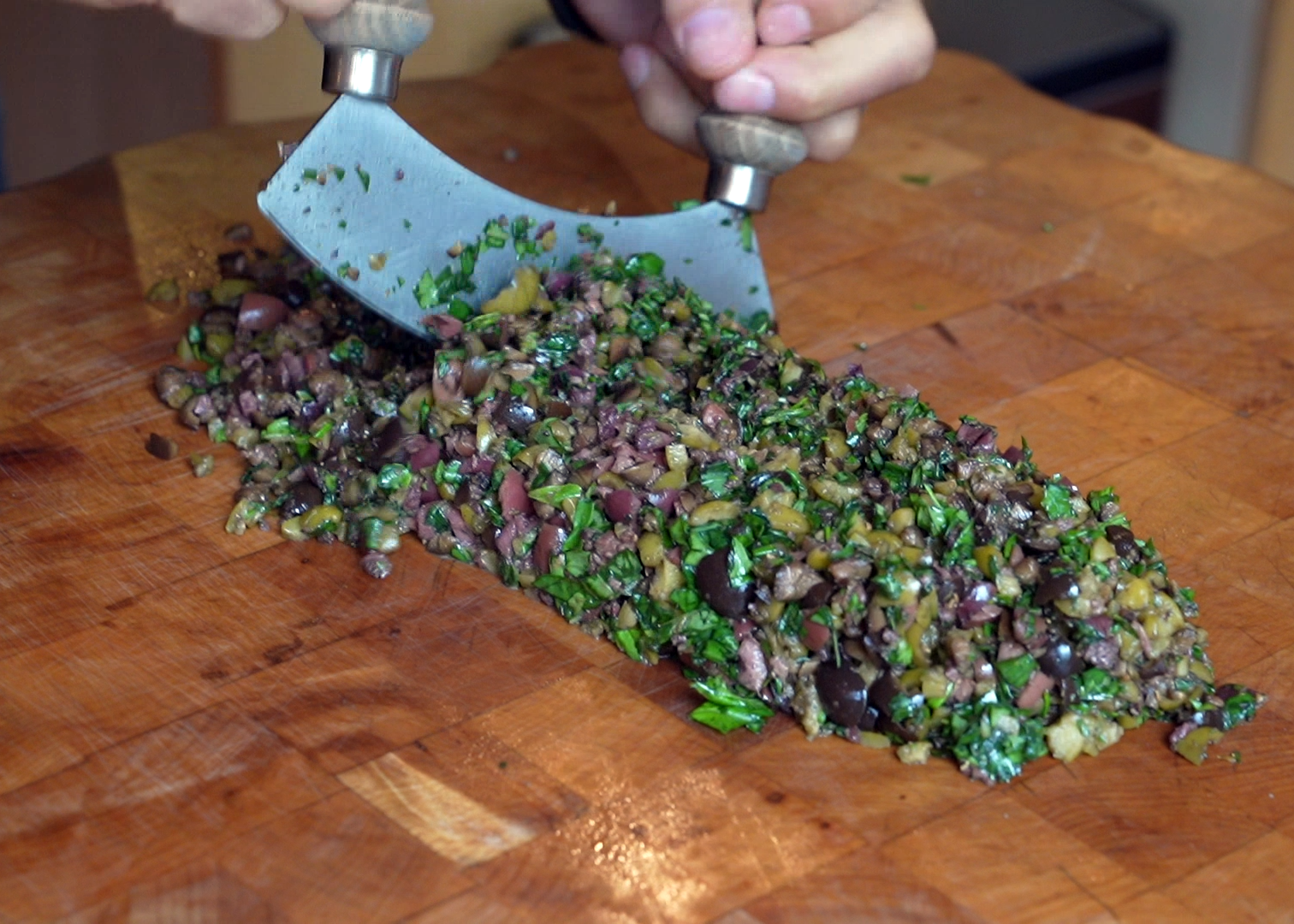 7
When you're satisfied with chopping, gather all the bits into a large bowl. Pour the reserved garlic, anise seed, and Sizzle from the pan into the bowl and mix it all up.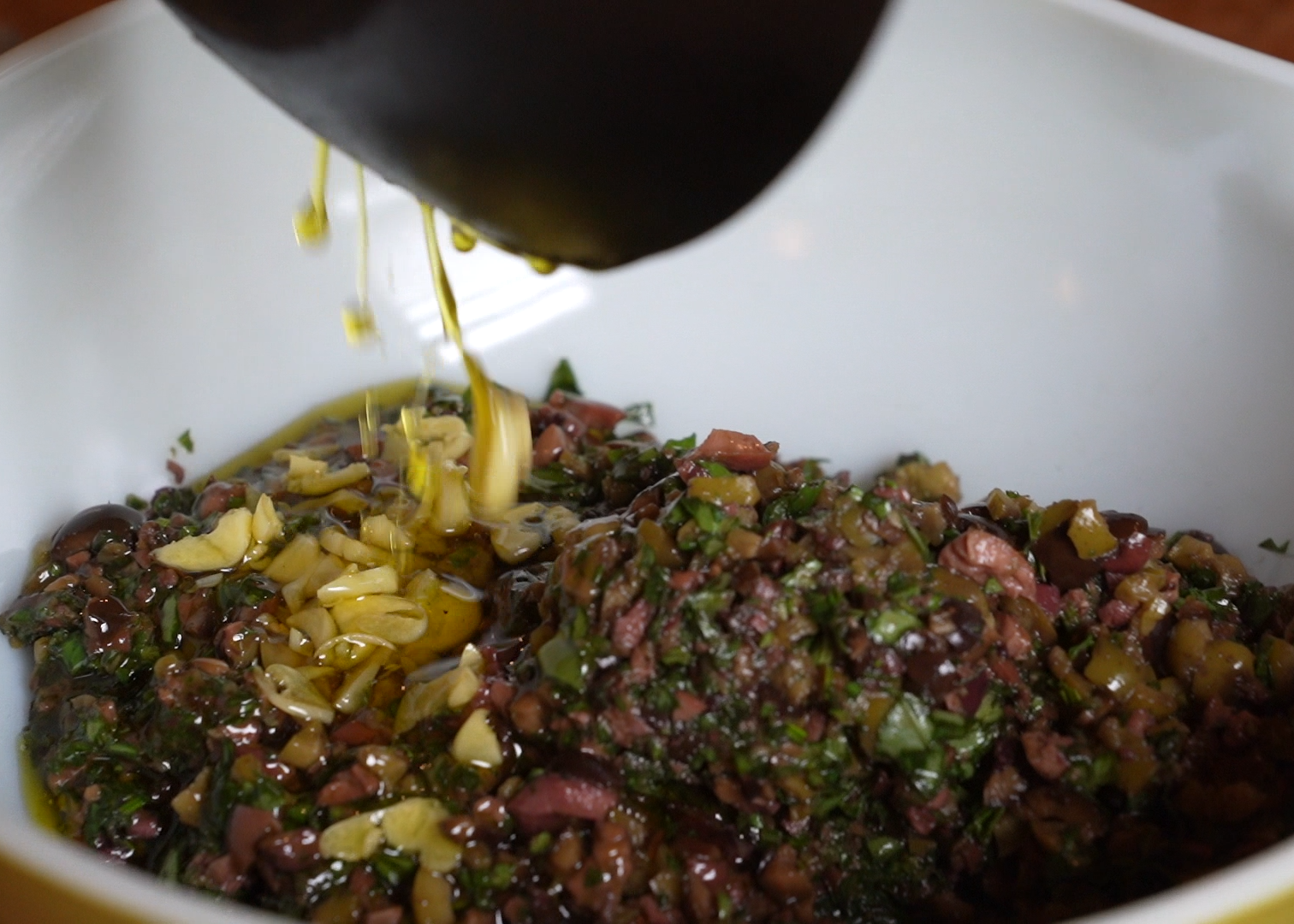 8
Taste it by piling a bit of tapenade on a cracker. If you're Jasmine and you've got it right – this is the Ratatouille moment.
9
Take it up 10 notches by adding a bit of Drizzle to each cracker. We find that it really shines when you finish each cracker individually.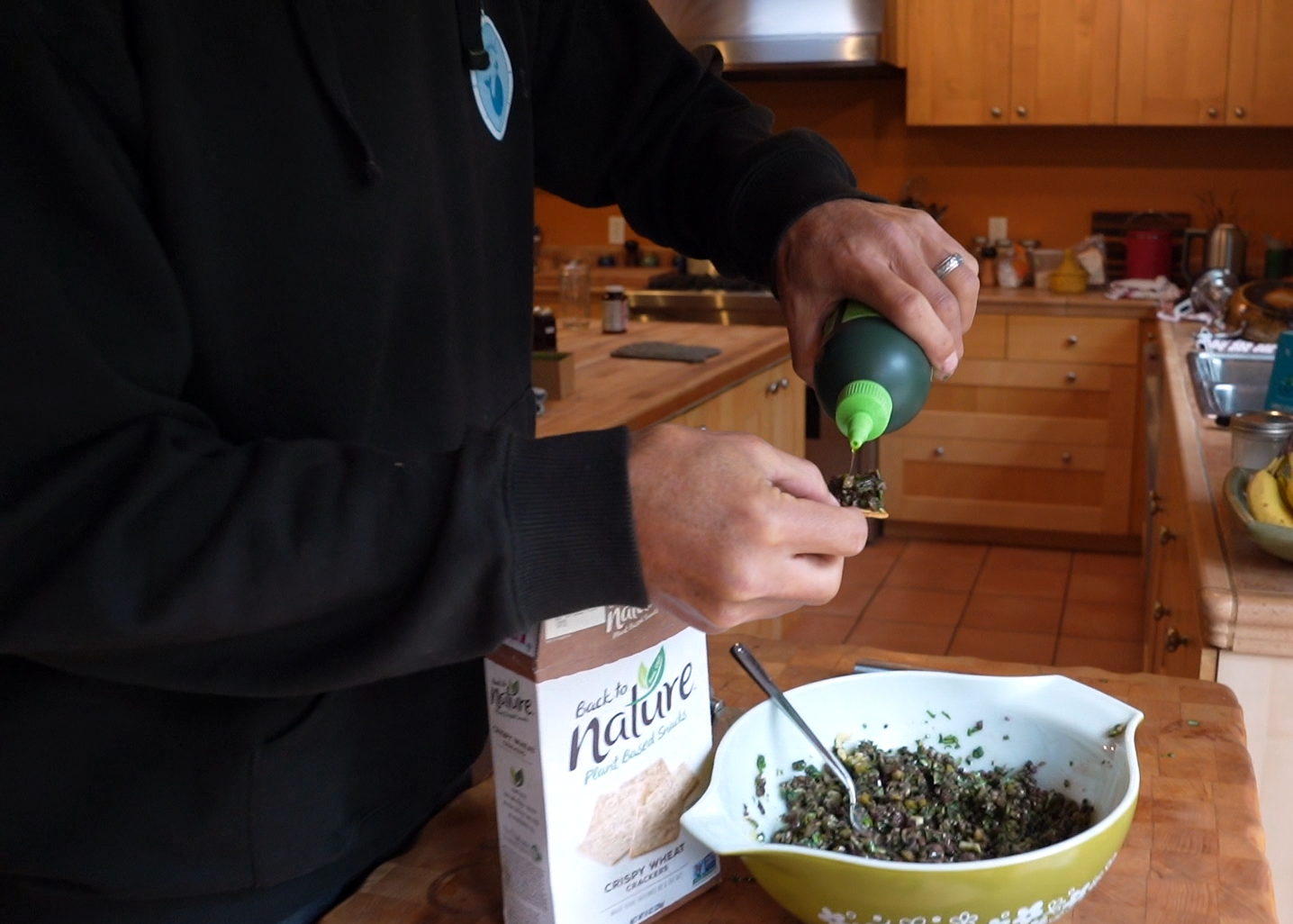 10
Enjoy! Store in the fridge if you don't eat it all within 24 hours.