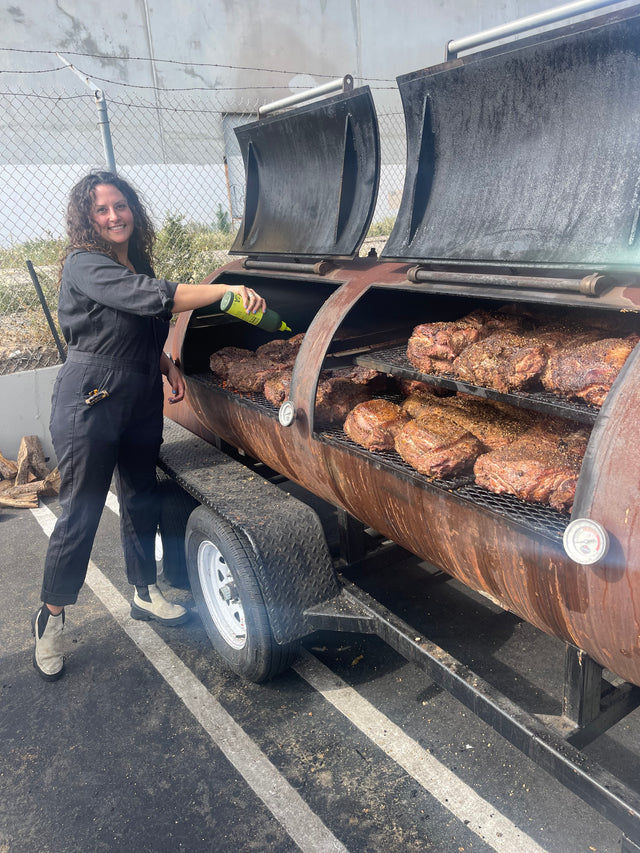 Education
Backyard vs City Smoking
A dive into the differences between a day spent smoking in an apartment in NYC with Graza co-founder, Andrew Benin, versus smoking in more spacious LA with Rebecca King, owner of The Bad Jew.
Here in Grazaland, we love fire. Where there's fire, there's usually smoke and that's a great thing for tasty meats. Andrew, our co-founder, has been known to smoke up a storm on a very tiny balcony, so we asked him to wax some small space smoking poetic. In contrast, we caught up with the LA queen of smoking, Rebecca King AKA The Bad Jew. Rebecca's got a serious set-up, much larger than a balcony, and some excellent advice. Check it out and get smoking!
What does a smoking day entail? Walk us through it.
Andrew: Whilst smoking appears to be a cathartic, relaxing activity, on my fire escape, it is PURE CHAOS. Did I leave my jealous devil charcoal outside in the rain? …yes. Where are my leather gloves? Plus, I usually need to climb in and out of our house through a window because otherwise our cat, Tippi, could escape. However, once we get everything going, it often becomes pure bliss. Obsessive temperature checks? Always. Miller High Life? 100%.
Rebecca: Smoke day is a 14-16 hour day. We like to start early around 6am. We arrive to our kitchen- and light the fire. We let the meat come to room temperature and rub it down with our super secret porkstrami rub. Once our smoker reaches 250 degrees, we add the meat. We manage the fire at 250 and don't open the smoker for 3 hours. At the third hour we open and spray our babies with super secret spray. We spray and rotate the pork butts every hour. When the bark has completely formed, around the 7th hour, we wrap in tinfoil. The butts stay on the smoker until they reach 195 degrees- we then pull them off, rest them for two hours and place them in the fridge. Two days later- we unwrap the porkstrami and vac seal. We save the foil to render the drippings for jus and smoked porkstrami fat.
YUM.
What do you love about your setup?
Andrew: I love that it's SO small and SO MINE. I rock the smallest Weber bullet smoker they make, and I feel like we really understand each other's nuances. If she gets too hot, I know how to cool her down quickly, and she does the same for me. If we're having a hard time heating up, here comes the handy electric blow torch, which is definitely not safe for NYC apartments. But...
Screw it, we're trying to have a good time.
Rebecca: We use a 500 gallon offset and I love how much porkstrami we can make at once! I started on a tiny smoker from Home Depot!
What are you most excited to smoke in the next month?
Andrew: TROUT. Always TROUT.
Rebecca: I love getting special requests from private clients- from cow tongue to whole goat-
We can smoke anything!
Any superstar smoking tips you can share?
Andrew:
Trial and error.
You have to invest in quantity before you conquer quality. You can't be scared to mess up, and it might be best to start with cheaper cuts like pork butt or chuck roasts where you have a bit more wiggle room. Get a spray bottle. And LET IT REST. Even if you are SOOO hungry and mouth watering mmmm tasty smoked meats mode, I let everything rest AT LEAST 1.5 hours.
Rebecca:
Use your damper!
It's there for a reason! The damper is the chimney or smoke stack cover that controls the flow.