Recipes
Super Smooth Sizzle Hummus
The Graza Kitchen
Do you know the secret to the smoothest hummus? Get rid of those skins! We got deeply intimate with the skins of about 10 cans of chickpeas and lived to tell the tale. It was worth it – we think. This hummus is very good.

Adapted from Smitten Kitchen's Ethereally Smooth Hummus
Ingredients
1 can chickpeas
2 teaspoon baking soda (for peeling/soaking)
½ cup tahini (use the best you can find, we love Soom)
2 tablespoons lemon juice, or most to taste
2 small cloves garlic
1 ½ teaspoon kosher salt
½ teaspoon sumac (optional)
Instructions
Active Time: 20-30 min.
Full Time: 1 hour
1
SO, the chickpea skins are the enemy of hummus so smooth you could take a nap in it. They also are less than excited to be separated, so what's a hardy kitchen warrior like you to do? Soak them in a bit of baking soda and then gently rub them between your hands. Put on a great show and get the whole family involved. Real instructions following…
2
Drain 1 can of chickpeas and reserve the liquid (aquafaba!). Rinse the chickpeas in a strainer and pour into a large bowl. Fill the bowl with warm water and add 2 teaspoons of baking soda. Let sit for 15 mins.
3
While the chickpeas are resting, rough chop 2 small cloves of garlic.
4
To peel the chickpeas, take a small handful and rub back and forth a few times. This will separate the skins, which can be discarded. We find that using a larger volume of water allows the skins to float so you can drain them separately from the inner chickpeas that sink! It can also be helpful to separate the naked chickpeas as you peel them, so you know what's been peeled.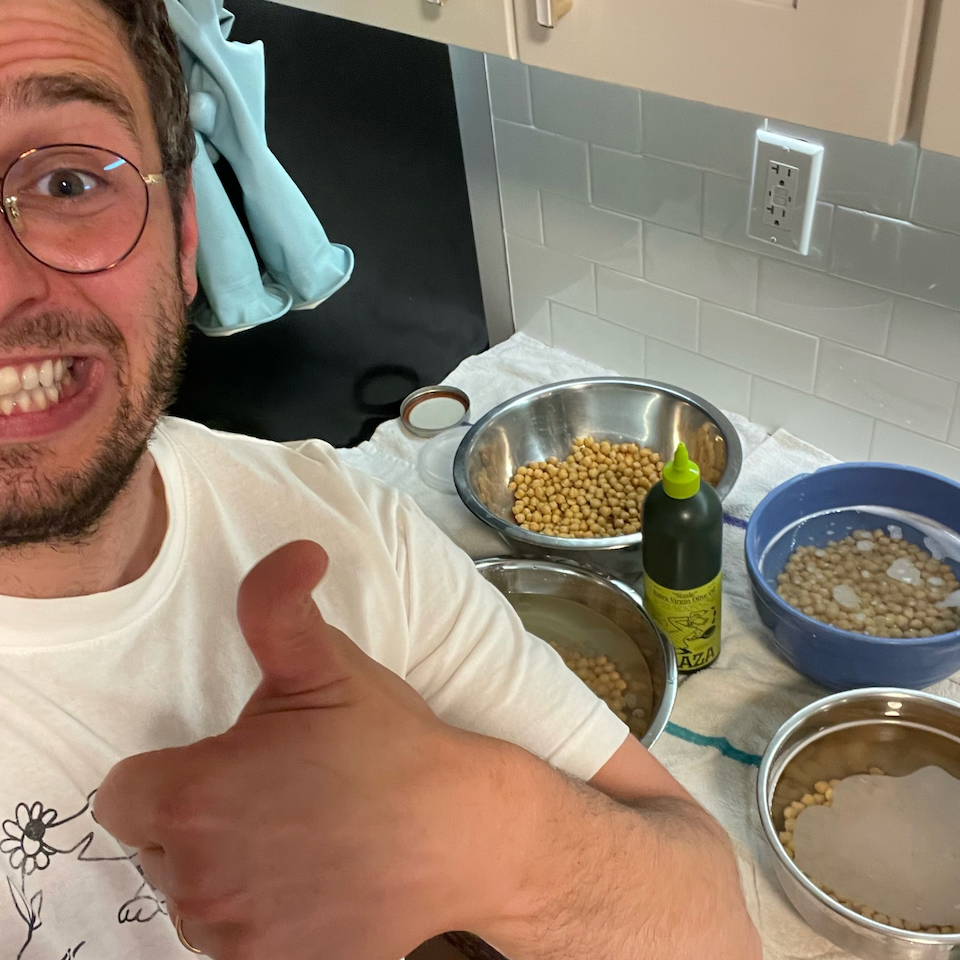 5
Once all chickpeas have been deskinned, add the bare chickpeas to a food processor or strong blender. Run until the chickpeas form powdery clumps, scrape down the sides, and run for a few more seconds.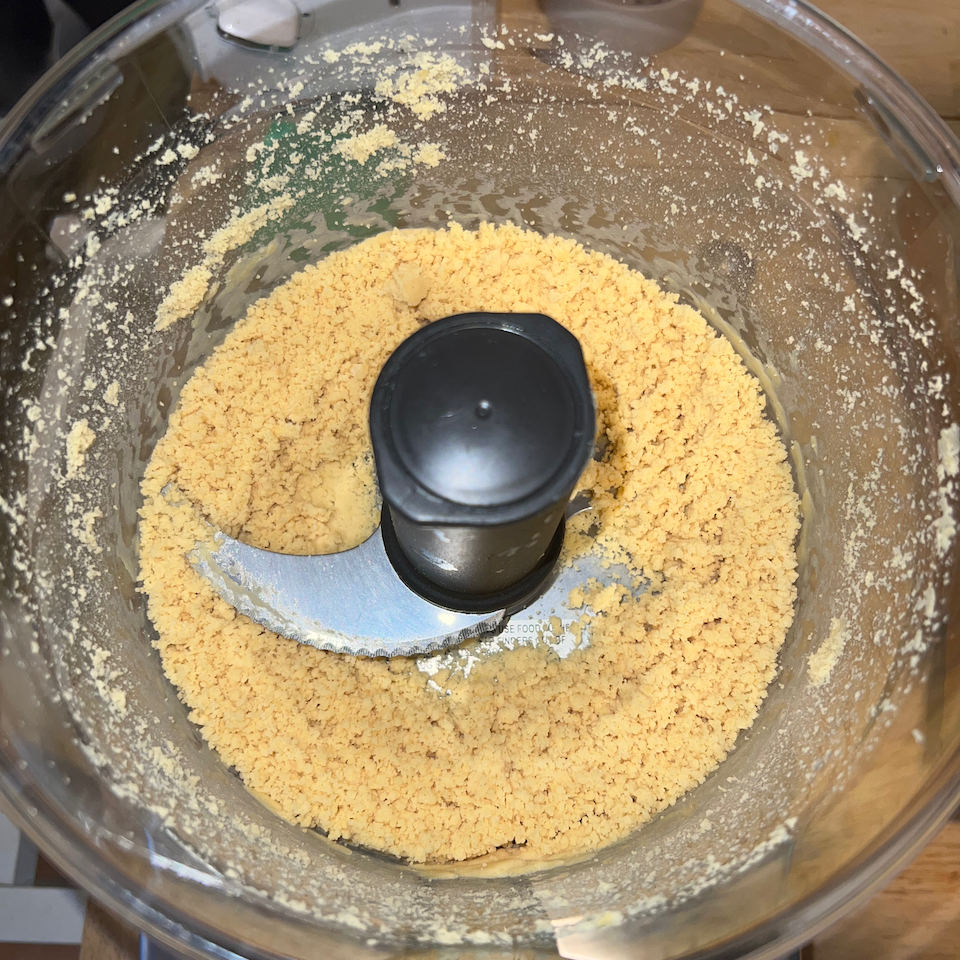 6
Add ½ cup of tahini, 2 tablespoons of lemon juice, roughly chopped garlic, 1 ½ teaspoons of kosher salt, and ½ teaspoon sumac (optional). Blend until well combined. It will look weird and might ball up around your food processor blade. It's Okay.
7
Add a nice long squeeze of Sizzle and pulse to combine. With the machine running, add in 1 tablespoon at a time of reserved chickpea water and blend, adding more as needed until the hummus becomes smooth, light, creamy, and not weird-looking. We usually need around 4 tablespoons.
8
Taste and adjust salt, lemon juice, and Sizzle as needed. Scrape down the sides and pulse a few times to fully combine. YUM.
9
Transfer to a bowl and rest in the refrigerator for at least 30 minutes.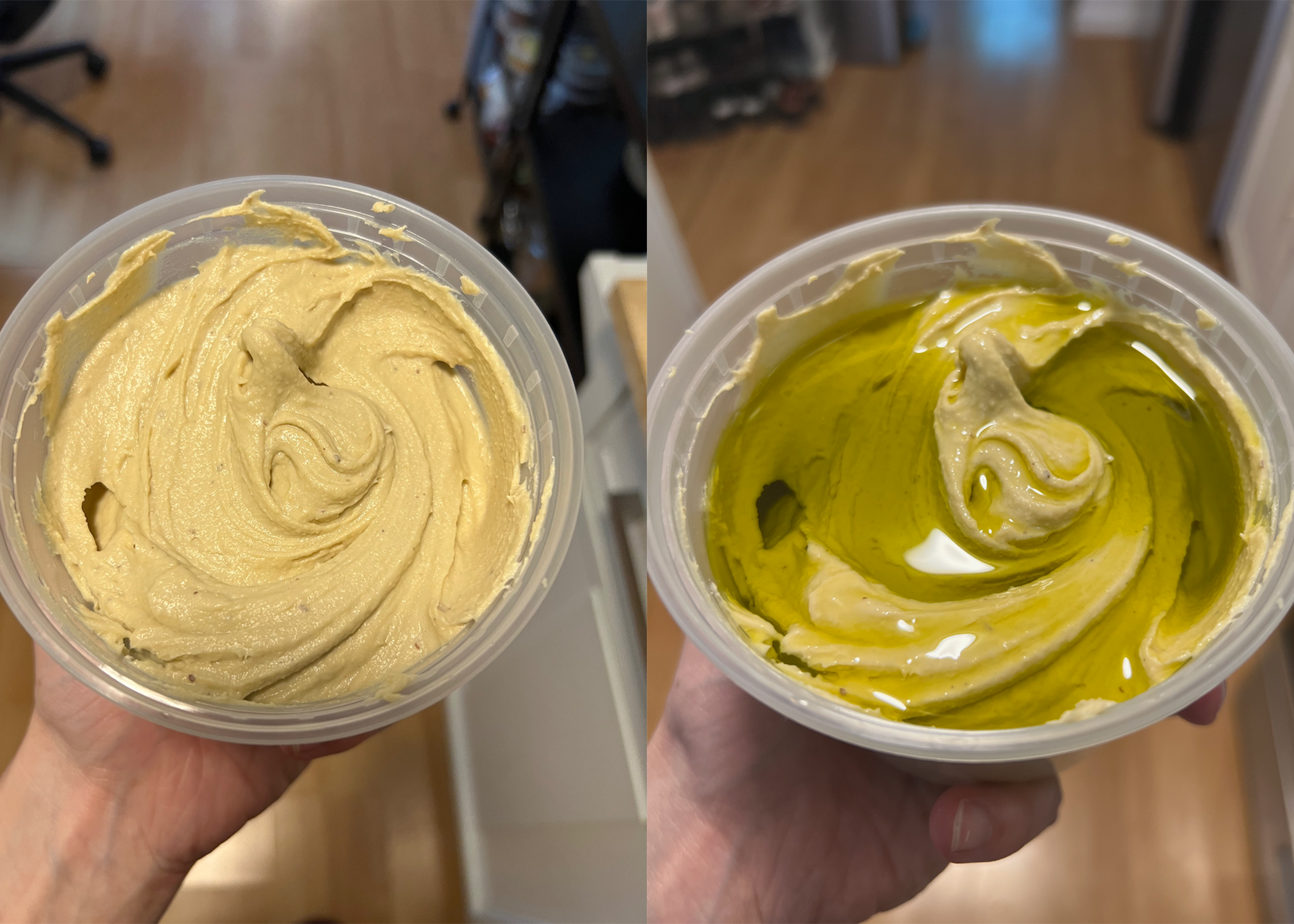 10
Serve with a big squeeze of Drizzle and your favorite crudités. BIG YUM.