Recipes
Will Coleman's Mozzarella Meatballs in White Bean and Tomato Sauce
We're bean lovers over here. This is the OG lasagna soup... cheesy stuffed mozzarella meatballs in a moutwatering white bean tomato sauce. Dip your toast or eat it straight by the forkfull—there's no wrong way to enjoy. 
by Will Coleman | @chefwillcoleman
Ingredients
For the Meatballs:
4 garlic cloves, finely chopped
1 large yellow onion, chopped
3 tbsp Sizzle
1 tsp dried chili flakes
Kosher salt
Ground black pepper
1 lb 80/20 ground beef
1 lb spicy Italian sausage
1½ cups breadcrumbs
2 large eggs
1½ tsp dried thyme
1 tsp hot paprika
4 oz mozzarella, chopped into ½ inch cubes (about 12 cubes)
For the White Bean Tomato Sauce:
½ cup chopped sundried tomatoes
1½ tsp dried oregano
1 28 oz can crushed tomatoes
1 14 oz can white beans (cannelloni, butter beans, pick your fave!)
½ cup water
Serve with:
Grated parmesan cheese
Crusty bread
Instructions
Active Time: 35 minutes
Full Time: 55 minutes
1
Place a large pot over medium heat and add Sizzle. Cook garlic and onions for 3 to 5 minutes, or until the onions become soft, and season with chili flakes, salt, and pepper to taste.
2
Once cooked, remove from the heat and place half of the mixture into a large mixing bowl. Mix the onions and garlic with ground beef and sausage, breadcrumbs, eggs, thyme, fennel, paprika, ½ tsp ground black pepper, and 1½ tsp kosher salt.
3
Once the meat is thoroughly combined with the ingredients, form medium-sized meatballs by hand or with a 5-ounce scoop. Press your thumb in the center of each meatball and place the mozzarella cube in. Form the meatball closed with your hands to cover the cheese.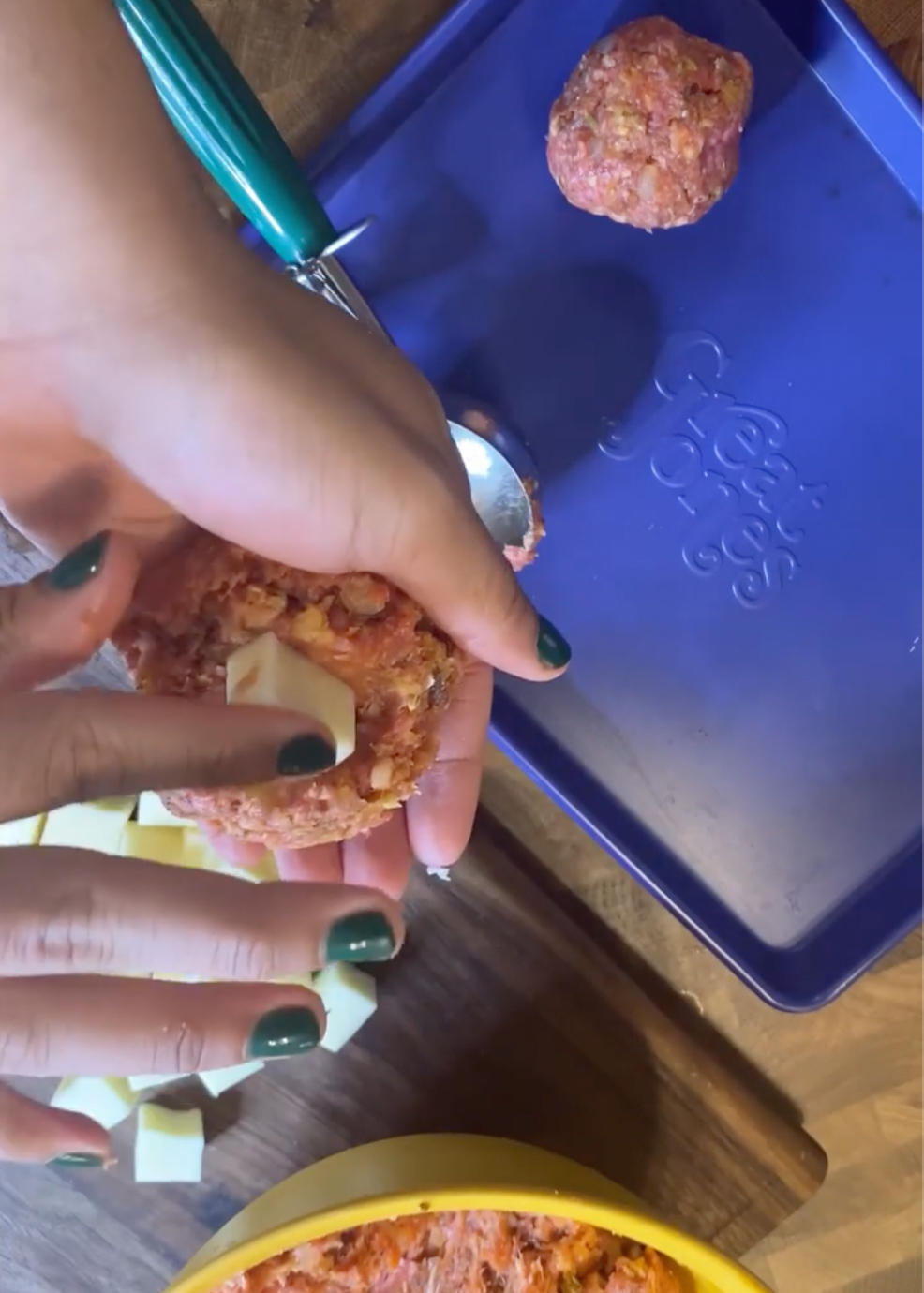 4
Place the meatballs onto a large parchment-lined sheet tray. Place each meatball about a half inch apart from each other. Bake at 400 F for 20 to 25 minutes, or until they're golden brown.
5
While the meatballs are baking, place the pot back over medium heat and add in the sun-dried tomatoes, oregano, whole tomatoes, white beans, and water. Bring to a simmer and reduce the heat to low. Cook for 20 minutes, or until the sauce reduces by a quarter.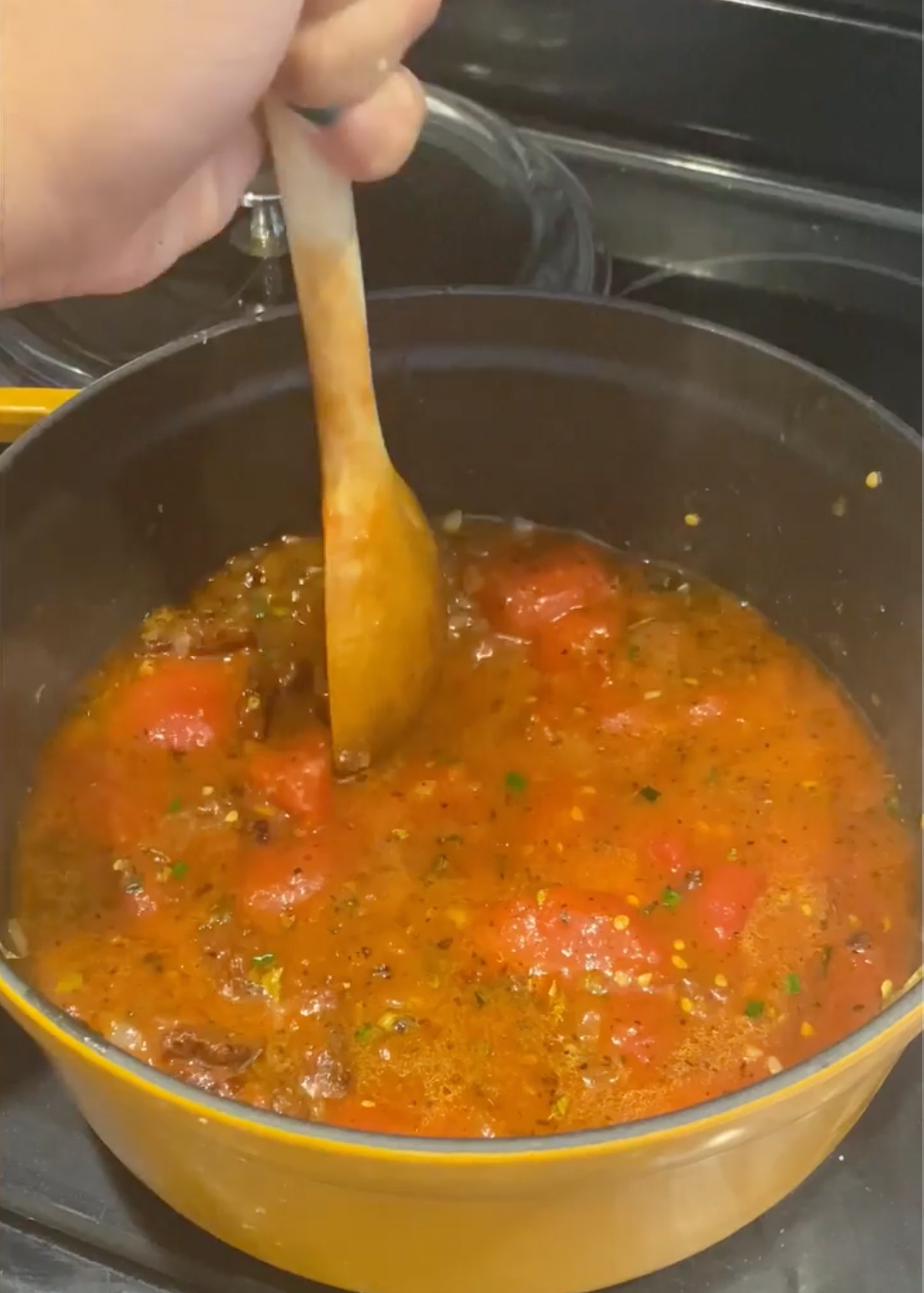 6
Place the cooked meatballs into the sauce and garnish with parmesan and Drizzle. Serve with crusty bread.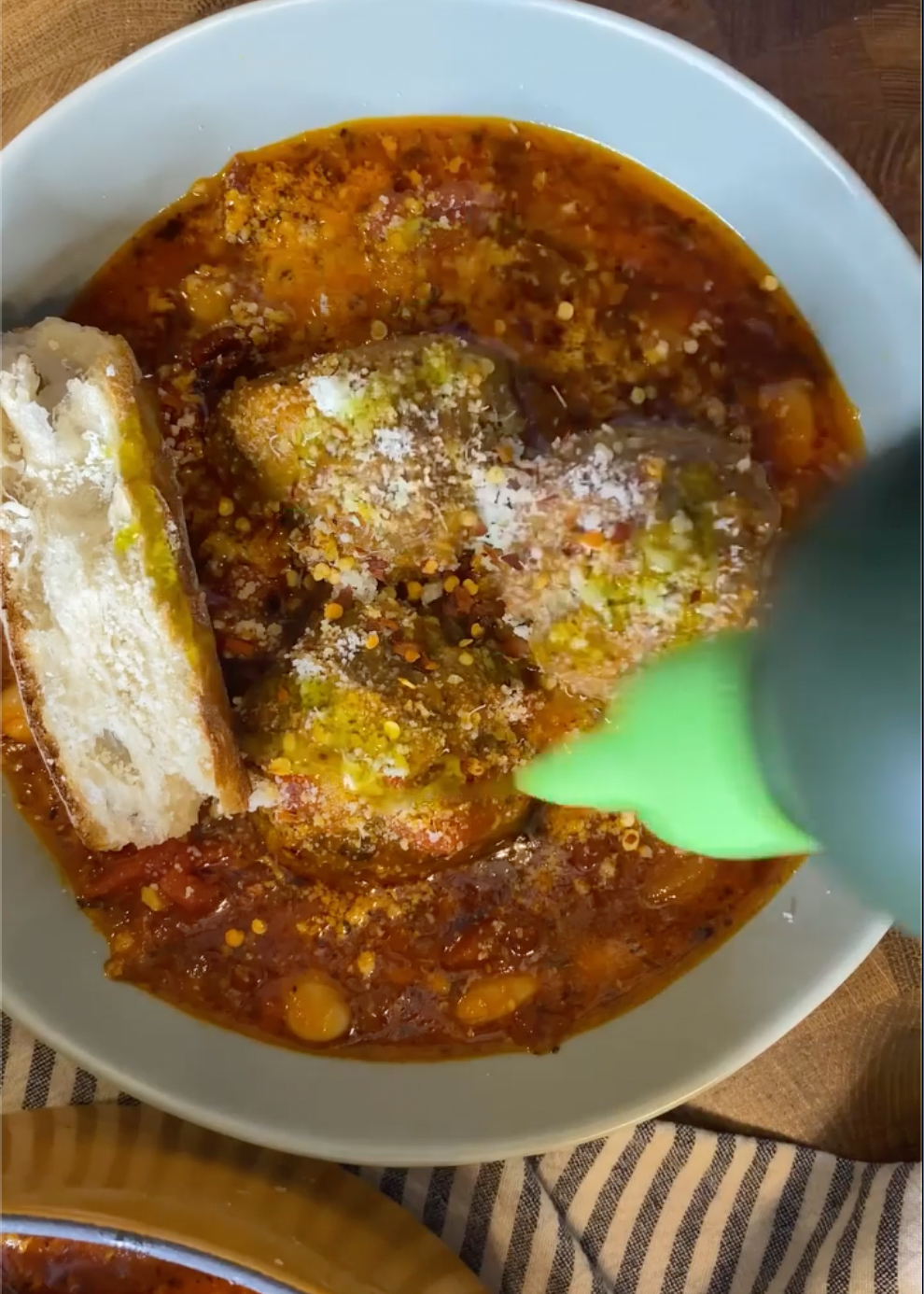 7
Enjoy!