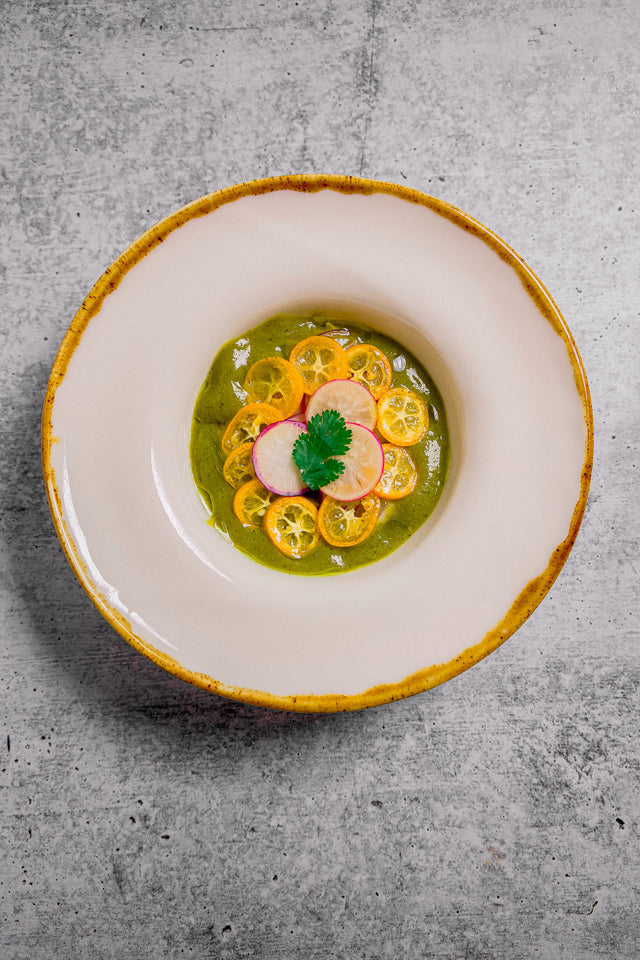 Recipes
Aguachile
It means "chili water"—a classic Mexican dish where shrimp or fish is drowned in citrus and seasoned with chili, lime juice, and salt. It's sweet and spicy and everything nicey (especially if you add in mango!)
Ingredients
2 cloves of garlic
1 Serrano chili
1 Jalapeño chili
1 cup of lime juice
1/4 cup of mint leaves
Half of a cucumber sliced into 1/8" rounds
1 mango, peeled, pitted, diced
1 lb shrimp, sliced in half lengthwise
1 red onion, thinly sliced
1 tsp white distilled vinegar
Cilantro leaves, radish and kumquat slices to garnish
Kosher salt to taste
Instructions
Active Time: 20 minutes
Full Time: 50 minutes
1
In a dry pan over medium-high heat, char the garlic cloves, Serrano chili, and Jalapeño chili. If you have a butane torch, now is a great time to use it :)
2
In a glass or porcelain (non-reactive) bowl, add the sliced shrimp and cover to submerge them in half of the lime juice (saving the rest for later). Add a pinch of salt and set aside for 20-30 minutes to cook.
3
In a separate bowl, add the sliced onion with a generous pinch of salt. Add enough water to submerge the onions and then add the white vinegar. Let sit for 20 minutes, then strain and set the onions aside.
4
In the bowl of a blender add mango, mint, cilantro, Serrano, Jalapeño, garlic, and the remaining 1/2 cup lime juice along with a generous pinch of salt.
5
Blend 60 seconds until smooth. Optional: strain through a sieve to get a finer texture.
6
Plate the sliced cucumber rounds as a bed, then lay the sliced shrimp on top.
7
Dress with aguachile sauce followed by the red onions, kumquat and radish slices, and garnish with a cilantro leaf.
8
Finally, finish it off with a topping of Drizzle!