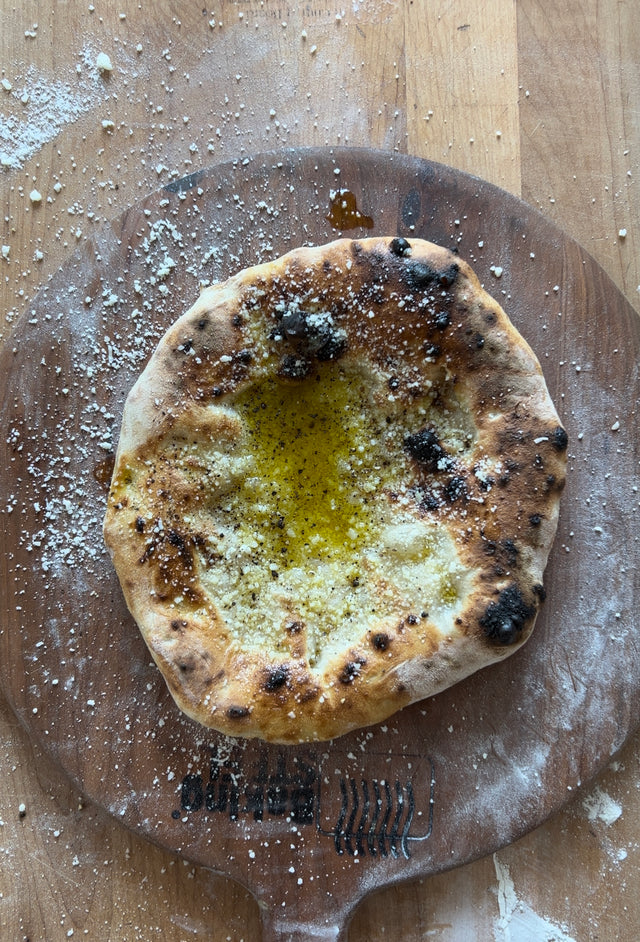 Recipes
Baking Steel's Cacio e Pepe Pizza
Pizza expert Andris Lagsdin (who you make recognize as the creator of these bestselling, game-changer steel pizza stones) shares this simple but delicious pizza edition of a pasta classic that lets the Drizzle take center stage.
by Andris Lagsdin / @bakingsteel
Ingredients
1 pizza dough
1.5 oz Drizzle
2 oz pecorino romano
.5 oz crushed black pepper
Instructions
Active Time: 10 minutes
Full Time: 1 hr 10 minutes
1
Preheat your oven at 500F with your Baking Steel on the top rack for one hour.
2
Stretch or roll out your dough into a 12 inch round. Switch the oven to broil.
3
Lightly dust your pizza peel with semolina flour and place the dough on top. Carefully place 2-3 ice cubes over the center of the dough. Launch onto your Baking Steel.
4
Broil for 2 minutes, open oven and rotate pizza about 180 degrees. Close oven and continue on broil for 1-2 minutes or until desired doneness and remove.
5
Now the fun part! Pour that Drizzle all over the center of the cooked dough, grate the pecorino all over the top, and finally crack on your pepper.
6
Instead of slicing, you can just rip this baby up by hand! Grab a glass of wine and enjoy...