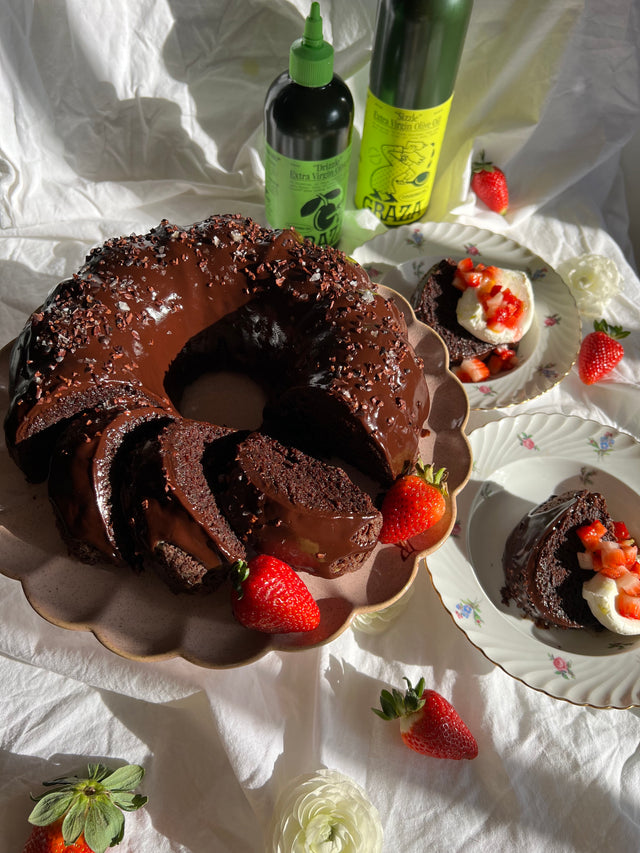 Recipes
Chocolate Mudcake
Moist, perfectly rich, and topped off with a Drizzle ganache, this cake is the ultimate chocolately indulgence to share with the ones you love.
by Kassie Mendieta / @ibakemistakes
Ingredients
Cake
140 grams bittersweet chocolate chips
200 grams whole milk
8 grams instant espresso powder
54 grams unsweetened cocoa powder
205 grams all-purpose flour
1 teaspoon kosher salt
1 ¼ teaspoon baking powder
1 ¾ teaspoons baking soda
440 grams light brown sugar
2 large eggs
1 large egg yolk
115 grams Drizzle
1 ½ teaspoons vanilla extract
200 grams sour cream
Drizzle Ganache
280 grams bittersweet chocolate
40 grams Drizzle
230 grams heavy cream
Instructions
Active Time: 25 minutes
Full Time: 1 hour 30 minutes
2
Combine the chocolate chips, milk, espresso powder and cocoa powder in a medium bowl. Set this over a pot of simmering water to melt. Stir every so often.
3
Meanwhile, whisk together the flour, salt, baking soda and baking powder. Set aside.

4
Once the chocolate mixture has completely melted, remove from heat and whisk in the brown sugar.

5
Whisk the eggs and egg yolk in one at a time.

6
Whisk in the Drizzle and vanilla until the mixture is homogeneous.

7
Add half of the dry ingredients to the bowl and whisk to combine. Whisk in the sour cream before adding the rest of the dry ingredients. You want to mix this together just until combined—do not overwork the batter!

8
Pour the batter into a greased 8" bundt pan. Bake for 45 minutes to an hour - it'll depend on your oven but you'll know the cake is done when a toothpick inserted in the center comes out with a few crumbs and the edges start to pull from the edges of the pan. (Or when the internal temperature reads 205F). Allow it to cool for about 20 minutes before removing from the pan.

9
For the ganache, combine all the ingredients in a bowl. Place the bowl over a pot of simmering water to heat everything together, whisking frequently.
10
Once the ganache comes together pour it over the cake to glaze.

11
Top with cocoa nibs and flakey salt if ya want!