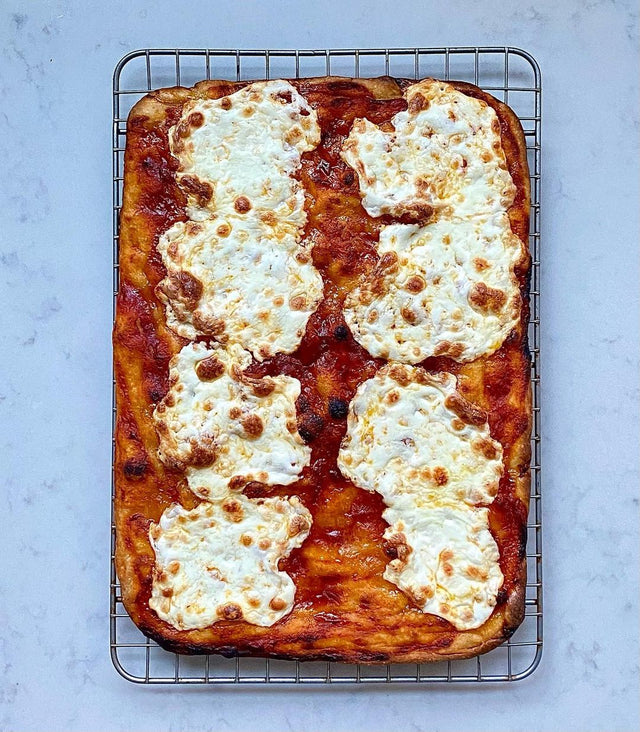 Recipes
Grandma Pizza Pie with Rosehill Sourdough Crust
This simple pie is easy to whip up AND a tasty treat for any time of day... that's right, we're pro PIZZA 4 BREAKFAST!!!
By Joe Foods | @joefoods
Ingredients
Crust recipe from Rosehill Sourdough Pizza
2 cups talian-style flour or 1¾ cups King Arthur unbleached all-purpose flour
2 cups King Arthur unbleached all-purpose flour
1 tbsp pizza dough flavor
1 ¼ tsp salt
2 tsp instant yeast
1 ¼ cups lukewarm water
2 tbsp Sizzle, plus additional oil for greasing the pan
Topping
3 cups shredded mozzarella cheese
1 ¼ tomato or marinara sauce, store-bought or homemade
Drizzle to finish
Note: You can buy the Rosehill Sourdough Pizza guide here
Instructions
Active Time: 1 hour
Full Time: 5 Hours
1
To make the crust, start by measuring your flour, and combine all the ingredients in a large bowl to mix and knead – by hand, mixer, or bread machine – until you form a smooth, elastic dough.
2
Place the dough in a large (at least 5-quart) bowl, cover the bowl with plastic wrap, and place in the refrigerator for at least 4 hours or up to 24 hours.
3
Now time to assemble and bake your pizza! Position a rack in the bottom third of the oven and preheat the oven to 500 F.
4
Add about 2 tbsp of Sizzle to a grandma-style pizza pan or an 18" x 13" baking sheet and spread it around to coat the pan.
Note: it's best to use a dark pan for this recipe to achieve pizza with a crispy bottom and edges. Lighter pans will result in a softer crust.
5
Turn the dough out into the pan, gently deflating it as you stretch it to the edges and corners. If the dough starts to shrink back, cover it with lightly greased plastic wrap, and let it rest for 10 minutes before resuming the stretching.
6
Cover the dough and allow it to rest for 30 minutes until it has puffed slightly.
7
Top the crust with the cheese, spreading it all the way to the edges of the pan then dollop or spread the sauce over the cheese.
8
Bake the pizza in the bottom third of the oven for 12 to 15 minutes, until the cheese is bubbly and the crust is golden.
9
Remove the pizza from the oven and let it cool for 5 to 10 minutes before serving hot. Finish with some Drizzle, slice, and enjoy!
You can find the original recipe from King Arthur Flour here.