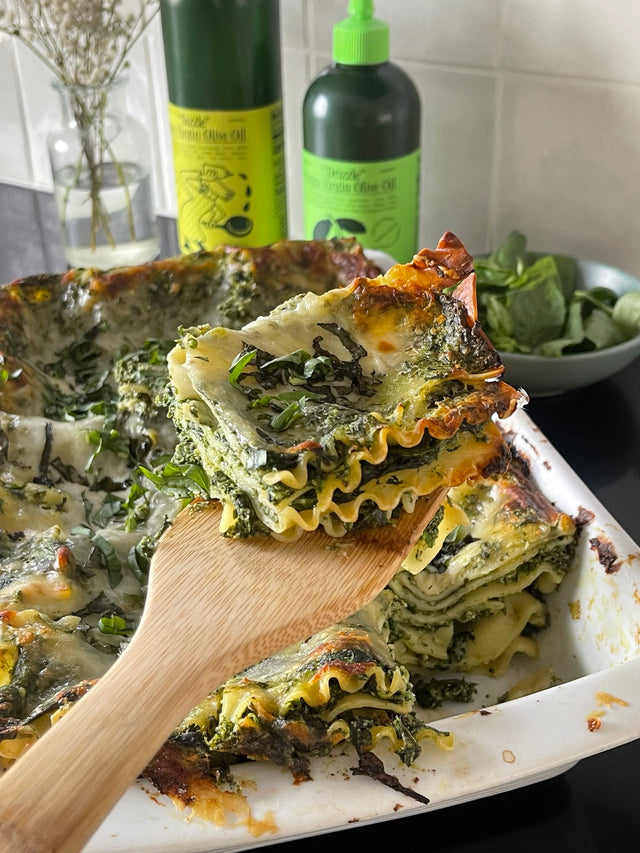 Recipes
Graza Green Lasagna
What better way to pay homage to the classic neon green drizzle of Graza than with green lasagna! This recipe is packed with spinach—and your kids won't even notice you sneaked it between those pasta layers thanks to a homemade béchamel cheese sauce that adds the loveliest creamy flavor and ties it all together.
by Jessica Marras / @kitschenista
Ingredients
1-1.5 lbs lasagna noodles
Fresh basil
For the spinach filling:
2 tbsp Sizzle
2 tbsp butter
1 shallot, minced
2 pounds fresh spinach (yes we know it's a lot!!)
Salt and pepper
**Optional upgrade - 1 head roasted garlic
For the ricotta mixture:
2 lbs fresh ricotta
2 eggs
1/2 cup grated parmesan
For the béchamel:
4 tbsp butter
1/4 cup flour
4 cups whole milk
12 oz shredded low moisture mozzarella
10 oz grated gruyere cheese
Materials:
Sieve or fine mesh colander
Blender or food processor
Large baking dish
Foil
Instructions
Active Time: 1 hour
Full Time: 2 hours
1
To start, prep all your ingredients (like grating the cheeses and mincing your shallots and garlic). Bring a large pot of water to boil. Mise-en-place is key!
2
To prepare the spinach—heat a large saucepan with the Sizzle and butter. Add shallots and garlic, cook until soft and fragrant.
3
Add in the spinach, seasoning with salt and pepper and cooking down. You will likely not be able to add all the spinach at once, so as it cooks down, continue to add it in large handfuls.

4
Once fully cooked, transfer to a large sieve and drain out the excess liquid (there will be a lot!). Use the back of a spoon to push out the excess liquid. Leave the spinach in the sieve while you prepare the ricotta mixture.
5
In a food processor or blender, add in half the ricotta, 2 eggs, and parmesan (head of roasted garlic can be added in here too if you're using!). Season with salt and pepper and blend until smooth.
6
Transfer the mixture into a large bowl with the remainder of the ricotta. Pulse the spinach mixture in the food processor (no need to wash the blender between blending the ricotta and the spinach).
7
Transfer spinach into the bowl with the ricotta and mix to combine.
8
To make the béchamel cheese sauce, heat a saucepan with butter over medium heat. Add in the flour, whisking to combine until the color turns golden—about one to two minutes.
9
Slowly add in the milk on low heat, whisking constantly. Season with salt and pepper and increase the heat to medium. Bring it to a soft boil until the mixture thickens.
10
Remove from the heat and add in 3/4 of the mozzarella and gruyere cheeses (reserve the remaining 1/4 to top the final lasagna product).
11
Preheat the oven to 400F. Meanwhile, cook your lasagna noodles until very al dente—about five minutes only. You may need to work in batches to cook the lasagna noodles and that's okay! You can lay out the al dente noodles on a parchment-lined baking sheet until you are ready to move onto the next step.
12
Now we're FINALLY ready to assemble our lasagna! In a large (9 x 13 inch) baking dish, add a spoonful of the béchamel cheese sauce to coat the bottom and then add a layer of lasagna noodles. Spoon on some of the spinach ricotta mix and spread to create a layer, topping with the béchamel sauce. Add another layer of lasgna and repeat the process of layering until you get to the top layer.
13
When you get to the top layer, spread the remaining spinach ricotta mix and top with the remaining cheese. Cover with foil and and bake for 20-25 minutes.
14
Remove the foil and continue to bake until the cheese bubbles and is slightly brown, another 5 to 10 minutes. Watch it closely to make sure it doesn't burn!
15
Allow the lasagna to rest and cool to room temperature before slicing and serving. Slicing too soon will cause the lasagna to lose form and might result in a cheesey-spinach avalanche. Finish with Drizzle and freshly chopped basil!
16
This recipe is a great one to make ahead and store ahead! It stores well in the fridge well and reheat by microwave or in the oven at 350F, covering with foil until warm.