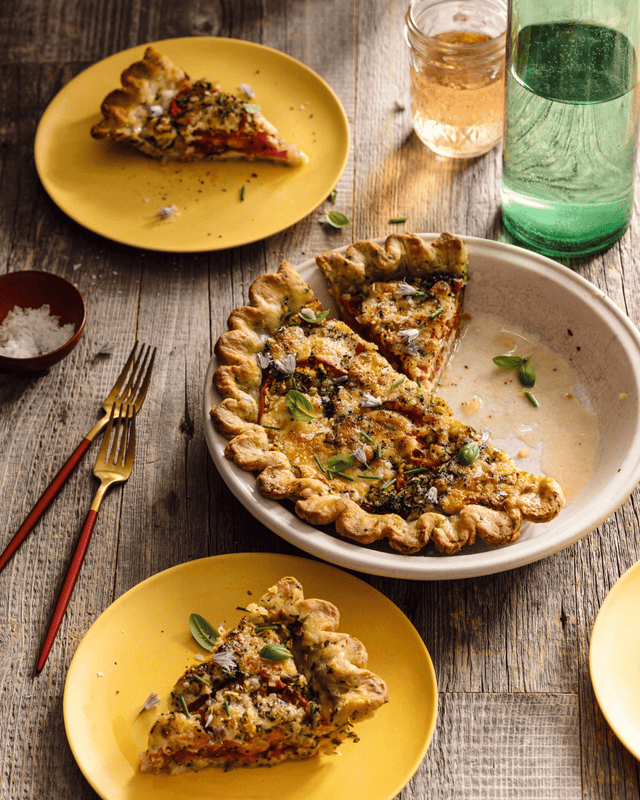 Recipes
Stacey Mei Yan Fong's Heirloom Tomato and Cheese Pie
This savory pie, from Stacey Mei Yan Fong's cookbook 50 Pies, 50 States, was inspired by the South Arkansas Vine Ripe Pink Tomato!
by Stacey Mei Yan Fong | @50pies50states
Ingredients
For the Filling:
2¼ lbs heirloom tomatoes (preferably South Arkansas Vine Ripe Tomatoes), sliced ¼" thick
Kosher salt
Freshly ground pepper
1 tbsp Sizzle
1 medium onion, chopped
½ cup shredded Gruyere cheese
½ cup grated Parmigiano Reggiano
¼ cup mayonnaise (preferably Duke's)
½ cup chopped mixed fresh herbs: chives, flat-leaf parsley, basil
For the Herb Butter Crust:
1¼ cups unbleached all-purpose flour
½ tsp kosher salt
1½ tsp granulated sugar
½ cup cold unsalted butter, cut into ½" pieces
½ cup cold water
2 tbsp cider vinegar
½ cup ice
1 tbsp fresh rosemary, chopped
1 tbsp fresh sage, chopped
1 tbsp fresh thyme, chopped
Instructions
Active Time: 30 minutes
Full Time: 1 hour
1
First, make your crust! Stir the flour, salt, sugar, and herbs together in a large bowl with a flat bottom.
2
Add the butter pieces on top of the dry ingredients. Using your fingers, toss the butter in the dry mixture so each cube is coated.
3
Use a pastry blender or your fingers to cut or rub the butter into the mixture until it is in pieces a bit larger than peas (a few larger pieces are okay, be careful not to over blend). You want to be able to have big butter chunks in your crust: It helps create a flaky effect, as well as adding delicious buttery flavor!
4
In a separate large measuring cup or small bowl, combine the water, cider vinegar, and ice. Sprinkle 2 tbsp of the ice water mixture over the flour mixture; do not add the ice, which is just there to keep your water cold.
Using your hands in a circular motion, bring the mixture together until all the liquid is incorporated. Continue adding the ice water mixture, 1 to 2 tbsp at a time. Carefully mix until the dough comes together in a ball, with some dry bits remaining.
5
Turn the dough out onto a lightly floured surface and knead gently until it comes into a mass (you don't want to overwork it!).
6
Shape the dough into a flat disc, wrap in plastic, and refrigerate at least one hour, and preferably overnight. (It can be refrigerated for three days, or frozen up to three months—you can thaw frozen dough overnight in the fridge).
7
Now make your filling! Preheat the oven to 350 F. Place tomatoes on a clean dish towel in a single layer and sprinkle with about 2 tsp of salt (making sure all the tomatoes are evenly covered). Let them stand for 10 minutes, allowing excess liquid to drain out.
8
While the tomatoes are draining, heat the Sizzle in a medium skillet over medium heat. Add the onion and sauté for three to four minutes, until translucent and tender. Season with 11/4 tsp of salt and 11/4 tsp pepper. Set aside.
9
In a medium bowl, mix together the Gruyere, Parmesan, and mayonnaise, and set aside.
10
To assemble your piece, first roll your crust out over a greased, 10-inch pie pan. Put it in your pre-heated oven to bake until the bottom just begins to brown, about seven to eight minutes.
11
Layer the ingredients in the partially baked crust, starting with a quarter of the cheese mixture, then all of the tomatoes, onions, and herbs, seasoning each layer with pepper. Sprinkle the remaining cheese mixture on top.
12
Place the pie on a baking sheet and bake on the center rack for 30 minutes, or until the cheese is bubbly.
13
While it is still warm, wrap it up carefully in your favorite tea towel, take it to a park, and enjoy it outside in the sun on a warm blanket while you listen to the birds sing in the trees. Top with extra Drizzle to your liking. It's a summertime dream to be enjoyed in the Natural State!