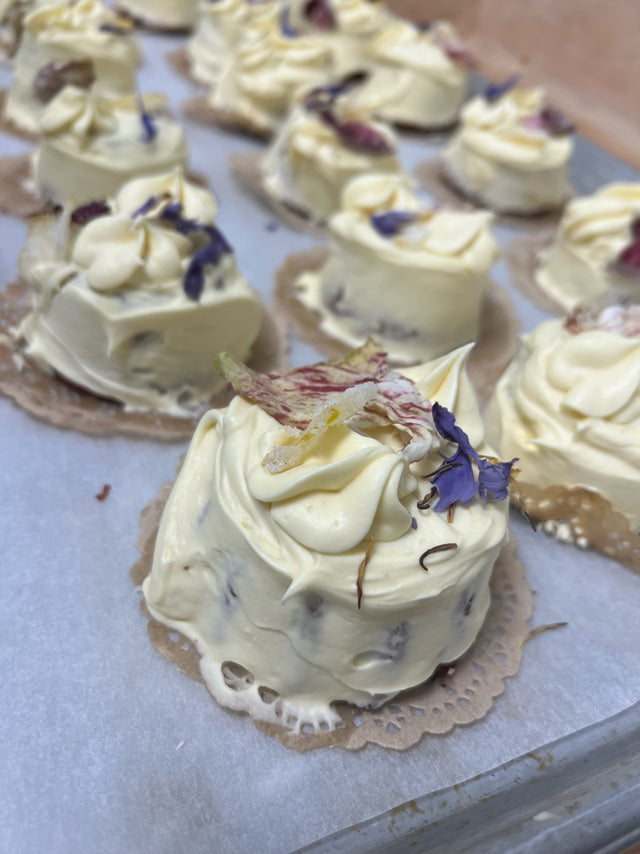 Recipes
Natasha Pickowicz's Red Velvet Cake
The James Beard semifinalist, and soon-to-be-released cookbook author (mark your calendars, More Than Cake drops April 11th!) is known for her one of kind creations, so we asked her to make something special with Graza. The result? Her first ever red velvet cake, all soaked in Drizzle.
Ingredients
1 cup white sugar
2 large eggs
1 cup plus 2 tablespoons buttermilk, at room temperature
1/2 tbsp red gel food coloring (or 3 tsp red powdered food coloring)
1/2 cup and 2 tbsp Sizzle
1 tsp vanilla extract
1 3/4 all-purpose flour
1/4 cup cocoa powder
1 1/4 tsp baking powder
1/2 tsp baking soda
1/2 tsp kosher salt
1/4 cup Drizzle
Powdered sugar and cocoa powder for dusting
Flaky sea salt
Colorful chicory leaves or flower petals, to garnish
Instructions
Active Time: 20 minutes
Full Time: 1 hour
1
Preheat the oven to 350F. Cut out a round fo parchment paper to fit inside an 8 or 10 inch round cake pan, and adhere with a non-stick spray.
2
In a small bowl, whisk together the buttermilk and food coloring.
3
In a large bowl, whisk together the white sugar and eggs until smooth. Add the buttermilk mixture, Sizzle, vanilla extract, and mix until smooth.
4
Sift the cocoa powder, baking powder, baking soda, kosher salt, and all purpose flour over the mixing bowl. Whisk until evenly mixed but not completely smoothed (some lumps are good).
5
Place the pan in the preheated oven and bake for 35 to 40 minutes (a small knife slid into center of the cake should pull out cleanly).
6
Remove from the oven and let cool briefly, about 10 minutes, before running a butter knife along the edges to loosen. Invert the cake onto a platter and then soak with Drizzle while still warm.
7
Let cool completely then scatter chicory leaves or flower petals on top. Dust all over with powdered sugar and cocoa powder. Sprinkle with flaky sea salt and slice into 8 wedges. Serve with more Drizzle, if you like!