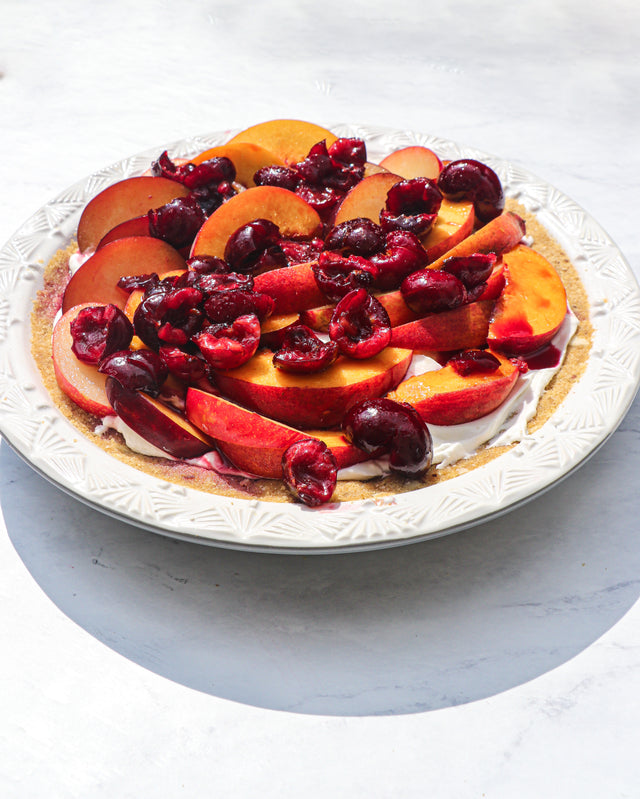 Recipes
No-Bake Fruit Tart
This naturally sweet fruit tart, made with fresh plums and peaches (as well as a topping of cherries) is the icy cold no-oven-needed dessert to carry you through the dog days of summer. 
by Shadae' Williams | @shadaewilliams
Instructions
Active Time: 20 minutes
Full Time: 30 minutes
1
Blitz graham cracker, almond slices, Sizzle and lemon cream yogurt in a food processor to make the crust.
2
Press into a 9 inch pie tin and cover with saran wrap. Then place a bowl or pan on top to weigh down the crust as it sets in the fridge.
3
Grab a bowl! Then add whipped cream cheese, cool whip, powdered sugar, lemon cream yogurt and almond extract and whisk together till smooth. Let set in fridge for at least 10 minutes.
4
Slice plums and pears for topping. De-seed and halve cherries.
5
Add cherries to a bowl with Drizzle and coarse sugar. Combine and set aside.
6
Remove crust and filling from fridge. Add filling to tart crust and smooth it out.
7
Top filling with sliced pears and plums. Then add cherry topping with juices.
8
Top with almond slices and extra Drizzle - enjoy as is or chill until ready to serve!