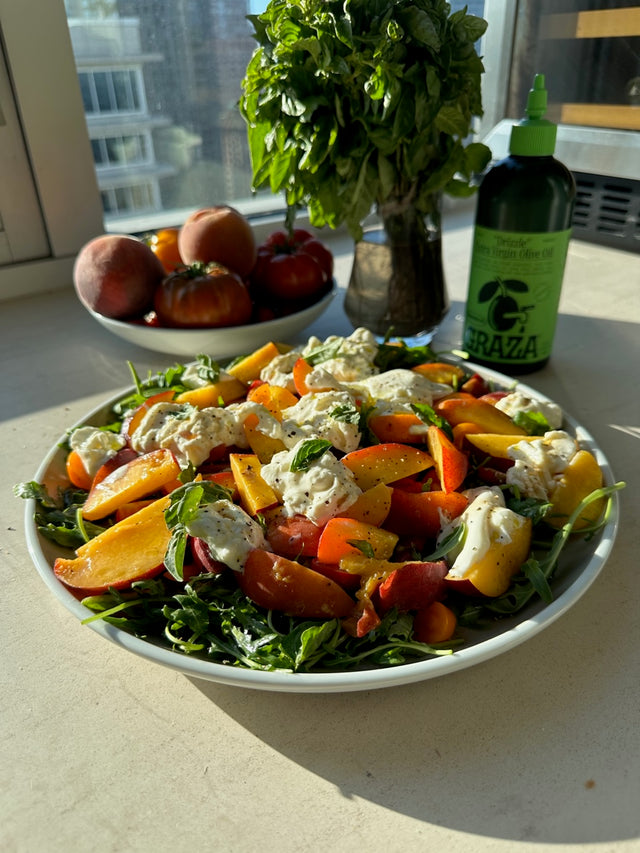 Recipes
Peach Burrata Tomato Salad
Peaches and burrata are the new peaches n cream. This simple salad makes the most of the season with sweet slices of juicy peaches, hidden grape tomatoes, fresh basil, and finished with Drizzle... YUMMM! 
by Jess Marra | @thekitschenista
Ingredients
4 extremely ripe peaches
1/2 cup cherry or grape tomatoes
8 oz burrata
Fresh basil
1 lemon slice
Handful of arugula
Balsamic Vinegar
Salt
Pepper
Instructions
Active Time: 10 minutes
Full Time: 10 minutes
1
Slice peaches and tomatoes, set aside.
2
On a platter, lay a base layer of arugula. Season with a little Drizzle, salt, and squeeze of lemon. Lightly massage the arugula with your hands.
3
Layer on the tomatoes and peaches. Break apart a ball of burrata onto the peaches and tomato. Add in some fresh basil leaves. Finish off with a little balsamic vinegar, Drizzle, salt, and pepper.