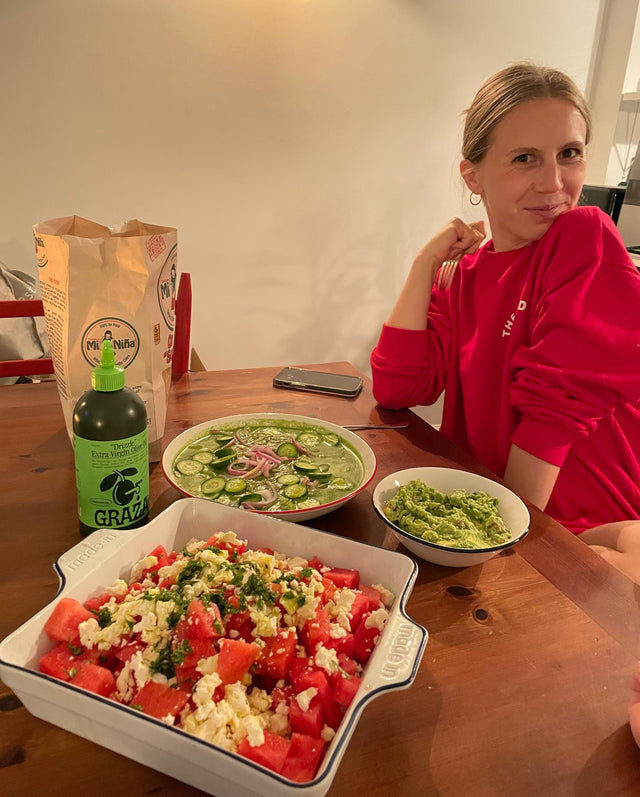 Recipes
Refreshing Watermelon, Feta, and Mint Salad
WE COULD EAT THIS EVERY DAY ALL SUMMER LONG... Oh wait, we already do! Also, yes, that's Pilar, Andrew's wife!
by the Graza team :-)
Ingredients
1 COLD medium watermelon, cut into 1-inch chunks with the rind removed
1 handful of chopped mint (¼ cup is usually good)
6 oz of feta cheese (more or less, up to you)
Juice from 1 lemon
Flaky salt
LOTS OF DRIZZLE
Instructions
Active Time: 15 minutes
Full Time: 15 minutes
1
Place chopped watermelon in a big bowl. Add lemon juice and mix to coat the watermelon pieces. If you didn't use a cold watermelon, now would be a good time to chill it in your fridge for 30-60 minutes!
2
Add the mint and squeeze in a niceee amount of Drizzle (we went for a 4 second squeeze)! Mix well :-)
3
Crumble feta on top, drizzle EXTRA Drizzle, and sprinkle your flaky salt! ENJOY!