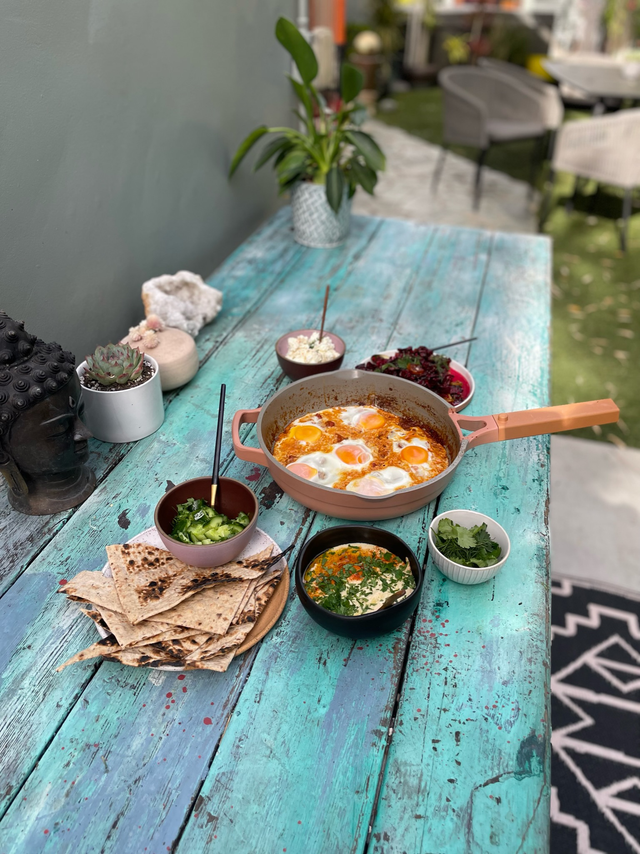 Recipes
Sami Udell's Dreamy Mediterranean Breakfast Spread
Our friend (and chef to the stars) Sami Udell created a lavish Mediterranean breakfast spread that can only be elevated with a healthy topping of Drizzle—on absolutely everything.
Ingredients
For the Shakshuka
1 onion
4 garlic cloves
3 tbsp hot pepper paste or harissa paste
3 heirloom tomatoes
6 oz whole peeled tomatoes
4 tbsp Sizzle
1/2 tsp smoked paprika
1/2 tsp cumin
1/2 tsp chili powder
1/2 tsp cayenne
6 eggs
To garnish: dill, mint, cilantro and lots of feta
For the Beets
1 head of beets, your color of choice
1 cup sherry vinegar
1 cup honey
Salt for seasoning
Drizzle to coat
Instructions
Active Time: 25 min without beets
Full Time: 25 min without beets
1
Start with your shakshuka! Heat the Sizzle over medium heat and add in the onions and garlic and stew for 5-7 minutes until slightly caramelized.
2
Then add in pepper paste, spices, fresh tomatoes, and stewed tomatoes. Season with salt and pepper to taste.

3
Simmer covered for 10-12 minutes until everything is well combined! Taste the sauce before cracking in eggs.

4
Crack eggs on top of the sauce and then cover and let the eggs cook until just done, about 5 minutes!

5
Garnish with herbs and feta, and serve with bread, pita or lavash, beets, labneh, hummus, and throw a party!

6
Just how to make the beets just mentioned? Easy peasy here we go! Start by washing your beets and cutting them into cubes.

7
Add in 2 tbsp Drizzle and a sprinkle little kosher salt. You can leave the skin on as long as they're clean

8
Set beets on a roasting rack and roast on 400 degrees for about 40 minutes or until nice and tender.

9
While beets are roasting mix together 1 cup sherry vinegar and 1 cup honey and dice up 1 small shallot. Mix All together!!

10
When beets are done cooking add them to the liquid. Let sit overnight and they will rehydrate and become very delicious!


11
When ready to plate simply drain the beets ! You can save the beet juice for future salad dressings :)