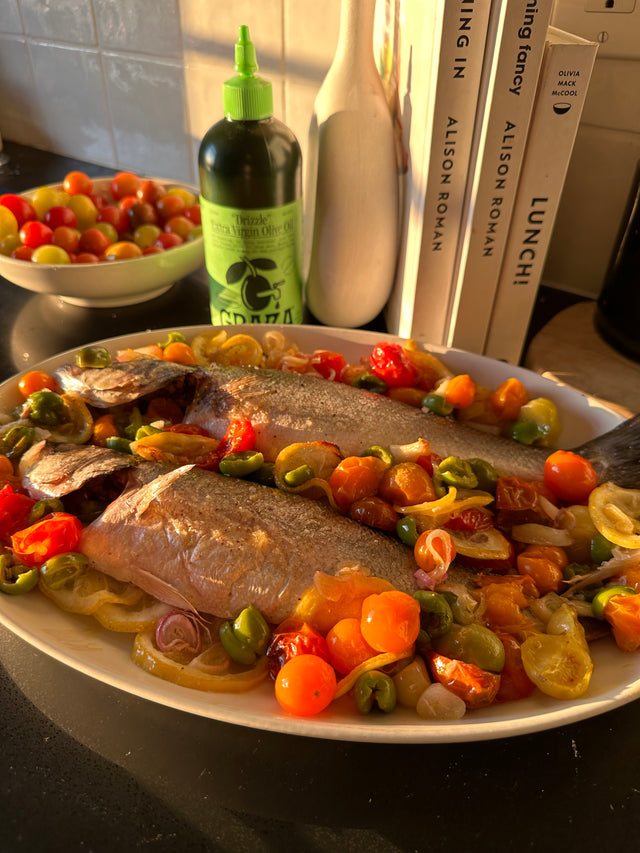 Recipes
Sungold Roasted Branzino
This super tasty Branzino with roasted sungold tomatoes calls for a WHOLE HEAD of garlic and only takes 15 minutes in the kitchen—you're welcome.
by Jess Marra | @Kitschenista
Ingredients
2 whole Branzino fish, gutted and scaled (you can ask your fishmonger!)
1 pint sungold cherry tomatoes
1 pint mixed cherry tomatoes
1 head garlic, half of the cloves smashed & half of the cloves grated
1 large shallot
½ cup crushed Castelvetrano olives
1 lemon, thinly sliced
Salt
Pepper
Fresh herbs like basil, parsley, thyme optional
Instructions
Active Time: 15 minutes
Full Time: 45 minutes to 1 hr
2
Place both whole fish on a baking sheet. Carefully pat dry. Open the cavity and season generously with salt, pepper, some grated garlic, and a little Drizzle. Add several lemon slices, and optional herbs. Repeat with the second fish.
3
Toss all the tomatoes, shallot, remaining garlic cloves, olives, and lemon slices onto the baking sheet surrounding the fish. Add a generous drizzle and season with more salt and pepper.
4
Bake for 30-40 minutes or until fish is completely cooked through to an internal temperature of 145 F (cook time will depend on the size of the fish). You'll know the fish is done when it flakes easily and the skin has begun to crisp.