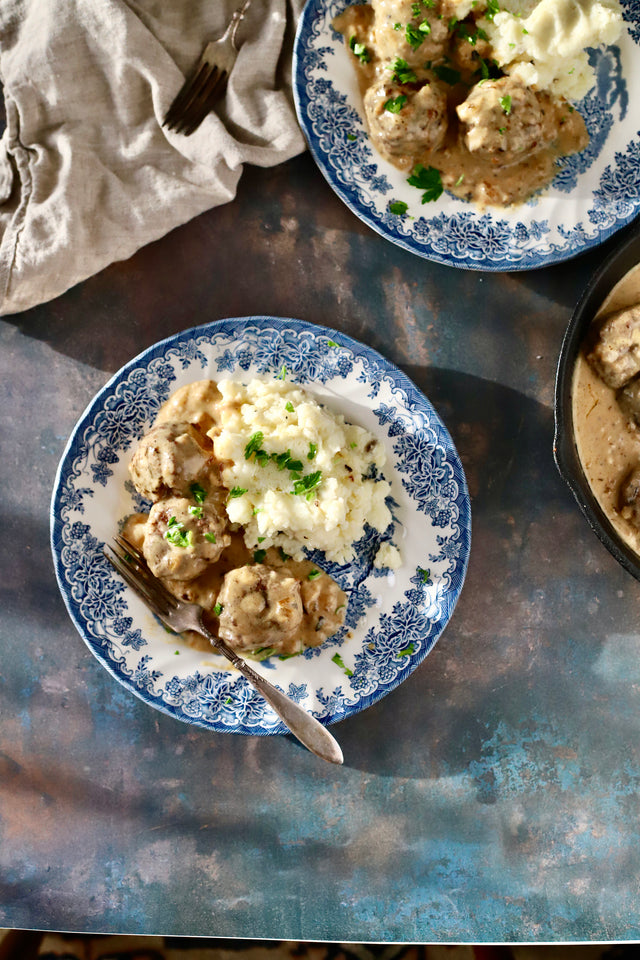 Recipes
Swedish Meatballs
There's no other dish that so immediately tastes like "home" to me than tender Swedish meatballs. My family eats these annually on Christmas Eve, and look forward to the meal all year long. Making your own at home is worth the time and effort—don't skimp on browning them well in the pan with olive oil (all those tasty bits help flavor the creamy gravy)!
In my family we always enjoy these with mashed potatoes, sautéed green beans, lutefisk, lefse, and Jell-O salad on the side—mashed potatoes are mandatory, but many Midwesterners also serve them with lingonberry jam.
Excerpted from Fresh Midwest by Maren Ellingboe King
Ingredients
For the meatballs
1⁄2 cup milk
1 cup cubed French or white bread
1 1⁄2 pounds ground beef
1 pound ground pork
1 egg
1 yellow onion, chopped
2 tbsp instant oatmeal
2 tsp kosher salt
1⁄2 tsp ground pepper
1⁄4 tsp allspice
1⁄4 tsp ground cloves
1⁄4 cup Sizzle
For the gravy
1⁄4 cup Sizzle
1⁄4 cup flour
2 cups chicken or beef broth, warmed
1 cup whole milk, warmed
1⁄2 tsp kosher salt
1⁄2 tsp ground pepper
Chopped parsley for garnish
Instructions
Active Time: 50 min
Full Time: 1 hr 30 min
1
Start with the meatballs! Preheat oven to 325°F. Line a rimmed baking sheet with parchment paper. In a small bowl, pour the milk over the bread and let soak for 10 minutes.
2
Mix the beef, pork, egg, 1⁄2 cup of the chopped onion, oatmeal, salt, pepper, allspice, and cloves in a large bowl. Use your hands to break up the bread, and add the bread-milk mixture to the meat. Use your hands to combine until fully mixed.
3
Shape the mixture into 2-inch balls and place on the prepared baking sheet.
4
Heat 1 tbsp of the Sizzle in a large skillet over medium-high heat. Add the remaining onion to the pan and stir to coat with oil, then push to one side of skillet. Working in batches, add a few meatballs at a time and brown on all sides, about 5 minutes. Return the cooked meatballs to the baking sheet and repeat with the remaining meatballs. Stir the onion between batches of meatballs. Add more Sizzle to the pan as needed.
5
When all the meatballs are browned, leave the onions in the pan (they will be browned and caramelized by now). Bake the meatballs for 20 to 25 minutes, until cooked through.
6
Make your gravy! Warm Sizzle in the skillet with the onions over medium heat, scraping up any drippings. Add the flour and cook until browned and nutty, whisking constantly, about 3 minutes.
7
Add the chicken broth 1⁄2 cup at a time, whisking thoroughly after each addition. Repeat with the milk. Cook the gravy over medium-low heat until thickened, about 5 minutes. Season with salt and pepper.
8
To serve, spoon the gravy over the meatballs and garnish with parsley.