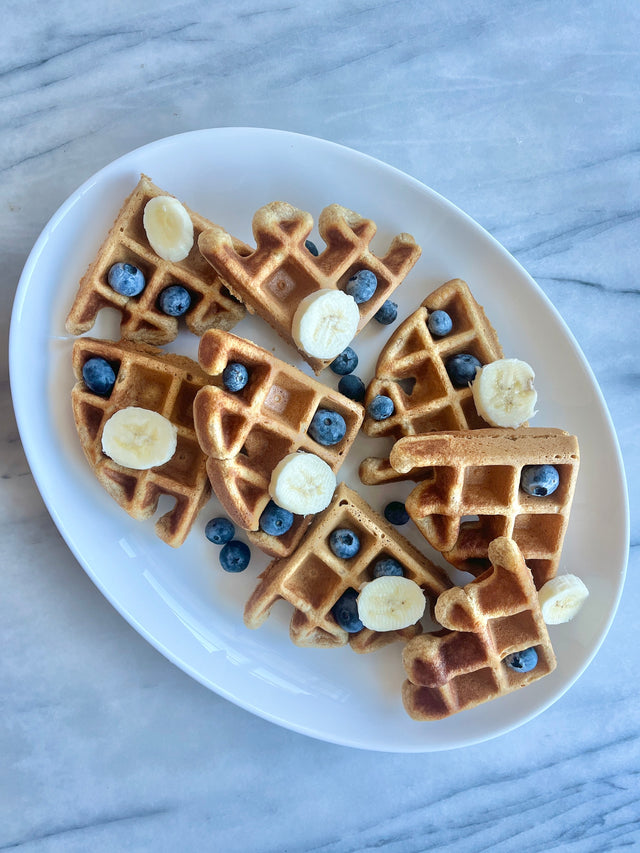 Recipes
Toddler Friendly Whole Wheat Waffles
These tasty whole wheat waffles are a Sunday morning go-to! The kiddos love them, and the leftovers make an easy toaster-ready breakfast all week long, and we're fans of anything that makes a school day morning a little easier.
by Michelle Piccolo | @feedingourtoddlers
Ingredients
2 ¼ cups whole wheat flour
1 tsp baking powder
1 tsp baking soda
½ tsp salt
2 large eggs, beaten
1½ cups whole or almond milk
¼ cup Sizzle (plus extra for the waffle iron)
¼ cup pure maple syrup
1 tsp vanilla
Instructions
Active Time: 10 minutes
Full Time: 10 minutes
1
Preheat waffle maker and your oven to 200 F.
2
In a large bowl, add flour, baking powder, baking soda and salt and whisk to combine.
3
In a separate bowl, add eggs, milk, Sizzle, maple syrup and vanilla. Whisk to combine.
4
Add wet ingredients to the dry and whisk until just combined. Do not over mix.
5
Add some Sizzle to the waffle iron and add about ¾ of a cup of mixture and cook as directed by your waffle maker or until they are golden brown and cooked through.
6
Remove and add to a cookie rack in your oven to keep warm while you make the rest.