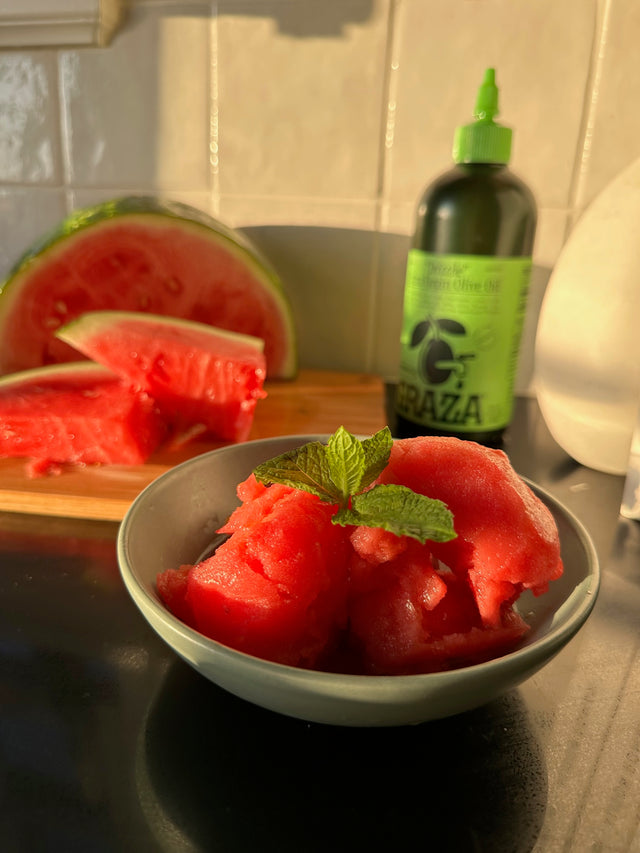 Recipes
Watermelon Mint Sorbet
This ultra refreshing (and super easy to make) watermelon sorbet made with crisp mint is the little treat you'll be whipping up all summer long!
by Jess Marra | @kitschenista
Ingredients
6 cups watermelon
¼ cup water
¼ cup sugar
¼ cup mint, plus extra for garnish
½ lemon
Instructions
Active Time: 15 minutes
Full Time: 60 minutes
1
Cut your watermelon into 1" cubes.
2
Line a baking sheet with parchment paper and add the cubed watermelon into one flat layer.
3
Freeze for at least 4 hours, or overnight.
4
In a small saucepan, heat water, sugar, and mint to make a simple syrup.
5
Stir, then bring to a boil before lowering the heat and simmering for about 5 minutes.
6
Turn off the heat and cool.
7
Once the watermelon cubes are frozen, transfer half into a blender with about half the mint simple syrup, and lemon juice. Blend until smooth.
8
Add the remaining watermelon and simple syrup. Blend again.
9
Serve immediately or transfer back to the freezer to harden. Finish off with a big Drizzle and top with extra mint.