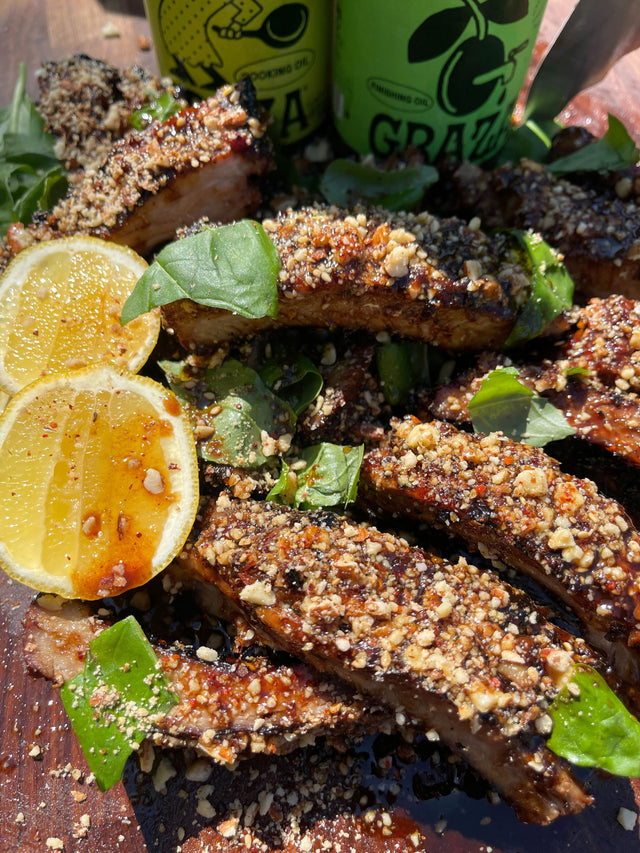 Recipes
Mediterranean Style BBQ Ribs
I want my baby back baby back baby back ribs Mediterranean style
By Mike Kubiesa | @mikekubiesa
Ingredients
2 racks baby back ribs, trimmed
1 cup orange juice
1 lemon, juiced and zested
1/2 cup Sizzle
1/2 cup dry white wine
2 tbsp rough chopped oregano
2 tbsp chopped basil
1 tbsp chopped Calabrian chilis
4-6 garlic cloves, chopped
1/4 cup honey
Salt and Pepper
For the Sauce
1/4 cup Drizzle
1/2 cup pomegranate molasses
1/4 cup orange juice
1 tbsp honey
2 tbsp lemon juice
1/2 onion chopped
1 tbsp Calabrian chilis chopped
2-4 cloves garlic, chopped
Salt and Pepper
For the Garnish
2 tbsp chopped almonds
2 tbsp chopped pine nuts
1 tbsp toasted sesame
2 tbsp chopped herbs (basil and oregano)
1 tbsp favorite BBQ rub or dry spice
Instructions
Active Time: 1 hour
Full Time: 24 hours
1
Trim ribs and remove any membrane or excess fat.
2
In a large bowl combine, orange juice, lemon juice, lemon zest, Sizzle, white wine, honey, basil or oregano, chili, and garlic. Whisk until well combined.
3
Pour marinade over ribs, cover with plastic wrap or seal the bag removing as much as possible from the bag. Place in refrigerator to marinade overnight.
4
Add all ingredients for the sauce into a small pot and bring to a simmer over low heat. Let slightly thicken, remove, and let come to room temperature.
5
Preheat smoker to 275 degrees or grill to medium low. Remove ribs from the marinade and season with salt and pepper. Place ribs on center rack or baking sheet lined with wire rack if using the oven.
6
Rotate and turn ribs every 30 minutes while on the smoker and glaze with sauce for about 3-4 hours. Raise heat and char/sear off ribs at the end for about 10 minutes. Remove ribs and let rest once just tender (Not completely fallen off the bone).
7
While ribs are resting combine almonds, pine nuts, and sesame seeds and slightly toast. Once toasted finely chop nuts and add to chopped herbs, spices, and lemon zest.
8
Slice rested ribs and drizzle with extra sauce, Drizzle,and heavily sprinkle chopped nuts and herb mix over the top for a crunchy garnish.