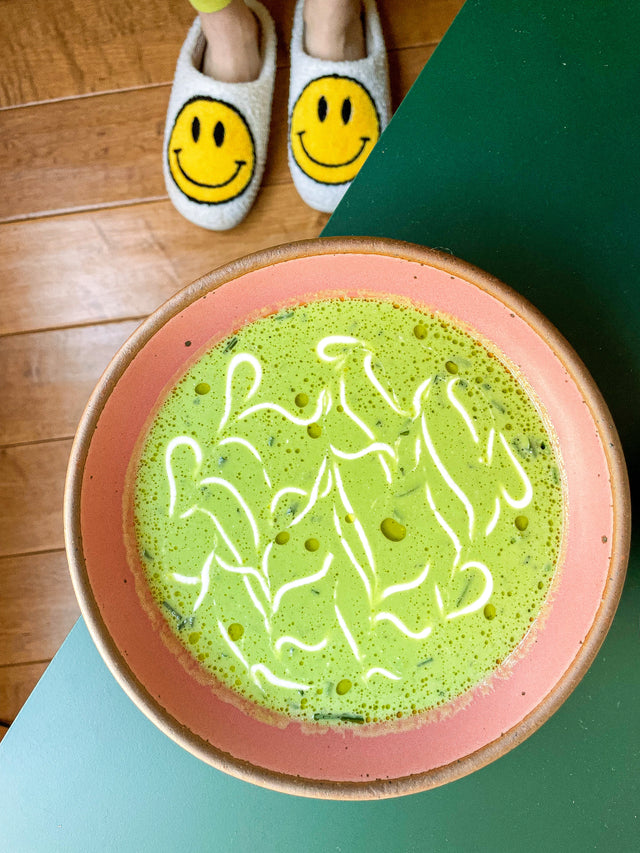 Recipes
Nosh with Tash's Chilled Pea Soup with Spring Herbs
She's cold, she's sweet, she's earthy, she's delicious. The soup is also good.
by Natasha Feldman | @noshwithtash
Ingredients
Soup
1 tbsp unsalted butter
1 large shallot, minced
3 tbsp Sizzle, divided
½ tsp salt, divided
2 heaping cups of fresh (or frozen and thawed) peas
3 cups filtered water
Toppings
½ cup snap peas, cut into ¼ inch strips
1 cup fava beans
2 tsp chopped chives
1 tsp chopped mint
1 tsp lemon juice
1 tsp Drizzle, plus more for finishing
½ cup crème fraîche
Instructions
Active Time: 20 minutes
Full Time: 2 hrs
1
Heat a pot over medium and add in butter. Once melted, add the shallot, 2 tbsp Sizzle, and ¼ tsp salt. Stir regularly until the shallot is translucent. Add peas and water. Simmer for 20 minutes.
2
Blend, strain and refrigerate until fully chilled. Season to taste.
3
For the toppings, heat a large sauté pan over medium-high. Add 1 tsp of Sizzle and sauté the snap peas and fava beans for one minute. Refrigerate until fully chilled.
4
Once chilled, add the chives, mint, lemon juice, Drizzle and a pinch of salt to the top, seasoning to taste.
5
To assemble, divide the veggie toppings between three bowls. Pour the soup over and decorate with the crème fraîche and a little more of that delicious Drizzle.
6
Enjoy!