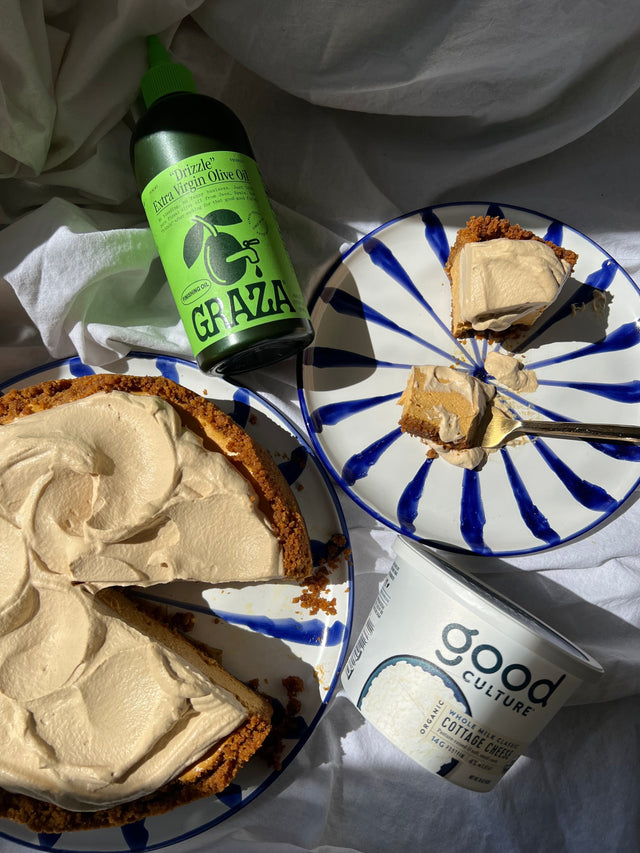 Recipes
Pumpkin Cottage Cheesecake with Good Culture
Yes we're also cottage cheese girlies... and this pumpkin olive oil cheesecake is our next high protein snack 🎃
by Kassie Mendieta | @ibakemistakes
Ingredients
Crust:
200 grams pumpkin cookies
200 grams graham crackers
100 grams Sizzle
1 egg yolk
Cheesecake:
1 15 oz can pumpkin puree
2 16 oz containers Good Culture Whole Milk Cottage Cheese
200 grams brown sugar
1 tbsp vanilla extract
1 tsp kosher sea salt
1 ½ tsp cinnamon
1 tsp ginger
½ tsp nutmeg
½ tsp cardamom
¼ tsp cloves
¼ tsp allspice (or 1 tbsp + 1 tsp pumpkin spice blend)
4 large eggs
80 grams heavy cream
Espresso Whipped Cream (optional):
120 grams heavy cream
2 ¼ tsp espresso powder
1 tbsp granulated sugar
Instructions
Active Time: 30 min
Full Time: 2 hr 25 min
1
Start with the crust! Preheat the oven to 350 F.
2
Crush the pumpkin cookies and graham cracker together in a food processor to create crumbs. If you don't have pumpkin cookies, use graham crackers instead.
3
Combine the crumbs with the Sizzle and egg yolk until the crumbs are evenly coated.
4
Place the crumb into a 9" spring form pan. Press the crust evenly up the sides of the pan gently pressing into place. Even out the remaining crust into the bottom of the pan.
5
Using the back of a glass or measuring cup, pack the crust into place.
6
Bake 12-15 minutes until golden and fragrant. Remove your pie from the oven, and drop your oven temp from 350 to 300 F. Allow the pie to cool while you prepare the cheesecake filling.
7
Add your pumpkin puree to a pan over medium heat. Cook this down for 8-10 minutes until most of the moisture has cooked off. Stirring frequently with a rubber spatula.
9
Add in the cooled pumpkin puree and blend until combined. Stop the blender and scrape down the sides before adding in the eggs and heavy cream. Blend on medium speed just until smooth and combined.
10
Add the filling to your cooled crust from earlier.
11
No need for a water bath, we are baking this low and slow! Bake for 40-45 minutes. Just until the cheesecake is barely set and still has a slight jiggle to the center.
12
Remove from the oven and allow to cool at room temp for 1 hour before moving to the fridge to chill at least 4 hours but preferably overnight.
13
To make the whipped cream topping for the cheesecake, combine the heavy cream, espresso powder and sugar in a medium bowl. Make sure the heavy cream is COLD. With a whisk, whip the cream until medium peaks form.
14
Spoon the whipped cream on top of the cheesecake before serving. Enjoy <3