Recipes
Camping Skillet Pizza
Your go-to pizza joint *probably* doesn't deliver to your campsite, but that's where we come in (with skillet pizzas, that are both easy 
and fun
). Make your dough and vegan-friendly
arugula pistachio pistou
at home, grab a bottle of
Sizzle
, and hit the road!
Ingredients
2 small pizza dough balls
Flour (for dusting + shaping)
Arugula Pistachio Pistou (pre-made following our easy 2 step recipe)
2 small balls of burrata (or one large ball, divided)
Squash blossoms or nasturtium blooms
Smoked chili flakes
Flaky sea salt
Black pepper
Sizzle (for the skillet)
Special Equipment:
10" or 12" cast-iron skillet, preferably with a lid
Sheet pan, cutting board or flat surface for shaping dough
Instructions
Active Time: 15 minutes
Full Time: 30 minutes
1
In a sheet pan, tray or another flat surface, dust your flour and shape your dough balls into rounds using your hands and fingers. Remember those days in preschool when you got to play with clay? Do like that. Try to make a circle shape, but know that the pizza won't taste any better in a circle than an oblong orb.
2
Warm your cast-iron skillet over medium-high heat. If you have two burners, use the second burner to warm the lid. Add a fat squirt (1.5-2 Tbsp) Sizzle to the pan and swirl to coat. Add one of your pizza doughs, laying it flat over the bottom of the greased pan. Allow the dough to sizzle and griddle for 2-3 minutes, checking frequently for doneness.
3
When the bottom has nice golden patches, and even some darker toasty patches, use a spatula to flip the pizza. Now, quickly slather your golden crust with the pre-made pistou, top with torn pieces of burrata, and decorate with squash or nasturtium blossoms. Sprinkle with salt, freshly cracked pepper, and smoked chili flakes.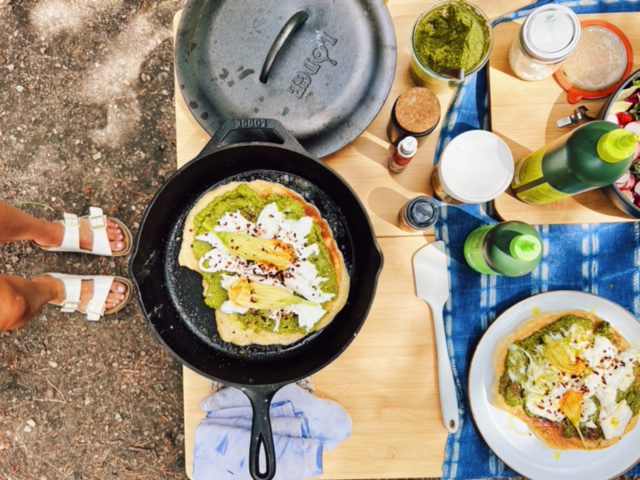 4
Cover the pizza with the lid (if you have) and allow the crust to cook and ingredients to warm through, 3-4 minutes longer. Check the bottom of the pizza with your spatula— you should see those same golden marks on the bottom before whisking it out of the skillet and transferring it to a plate.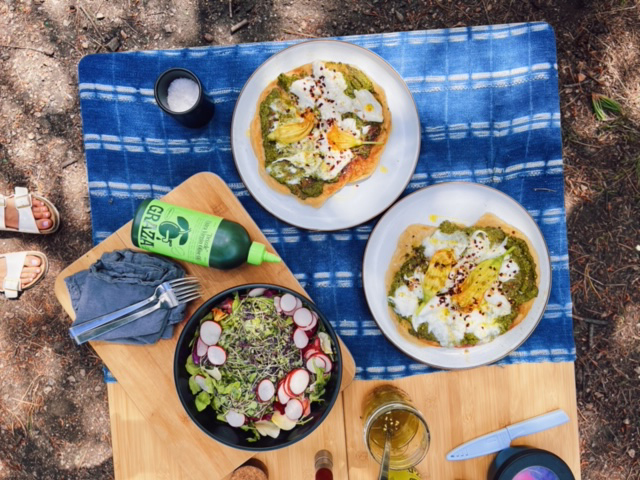 5
Cut the pizza, enjoy it immediately, and then repeat the entire process with your second pizza dough. Bonus points: dipping leftover crusts in this Lemon Shallot Vinaigrette.